July 6, 2020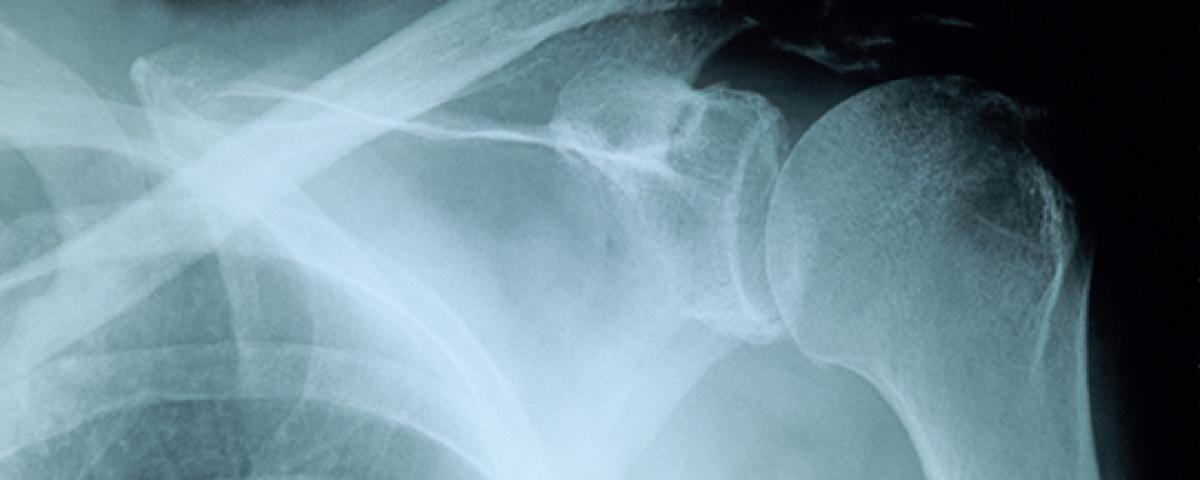 Reverse Total Shoulder Replacement Repaired a Former Pitcher's Rotator Cuff, and Got Him Back to Active Retirement  
After flying combat missions in Vietnam and a career spent overseeing operations at Denver airports, Eric Hall planned on a retirement filled with leisure time, golf, and racquetball. One thing stood in his way: shoulder pain. When Hall decided it was time for surgery, he did his research, which led him to Centura Orthopedics & Spine – Meridian surgeon Landon Fine, DO. "Dr. Fine was very straightforward. He didn't mince words. He told me that with what I had, a normal shoulder replacement wouldn't work. There was too much deterioration in the joint."  
For Hall, the solution would be a reverse total shoulder replacement. That procedure works well for long-term deterioration due to osteoarthritis, as well as for older patients who have "fractures that are otherwise unrepairable," says Fine.  
Striking Out With Shoulder Pain
Hall traces his rotator cuff damage to hard work raising horses growing up on a family farm and to another classic cause: years of throwing fastballs, sliders, and curves. He pitched in college for Western Michigan University, and was signed by the Kansas City Royals organization when he graduated. But the southpaw's baseball career was interrupted – permanently as it turned out – by a summons from Uncle Sam.  
Figuring he's rather see Vietnam from the air rather than the ground, Hall enlisted in the U.S. Air Force, trained as a pilot, and flew 143 combat missions. After nearly seven years of service, he left the Air Force, but not air travel. On a stopover at Buckley Air Force Base, Hall spotted a newspaper help-wanted ad: Denver needed an intern at Stapleton International Airport. Hall got the job, and eventually became the airport's chief of operations, a job he continued to perform at the new Denver International Airport when it opened. 
'Revering' Joint Damage
But his dreams of racquetball-filled retirement crashed in the reality of shoulder pain. That is, until he discovered he was a perfect candidate for a reverse totally shoulder replacement.  
"This is the treatment of choice for people over 60 who have arthritis in the shoulder and have rotator cuff tears or deteriorations," Fine says.  
Reverse totally shoulder techniques have been around for years, but have been gaining in popularity, thanks to new technology and excellent outcomes, Fine says. For older people with deteriorated rotator cuffs, the reverse procedure "provided a lot more reliable pain relief and excellent shoulder function, particularly when it comes to range of motion," he says.  
For Hall, all those benefits came with just two days in the hospital, and three days on pain medication. These days, the 73-year-old had traded fastballs for slow tosses to his five grandchildren. But the racquetball court still beckons.  
And, thanks to his surgery, he made his first trip back to the courts just four months after surgery. He's become a fan of the reverse procedure, and of Fine. "He's given me back my quality of life," Hall says.  
And he has advice for anyone else whose shoulder pain threatens their quality of life. "If it's broken, fix it and don't wait too long." 
Don't Let Shoulder Pain Disarm You – Surgical Options Can Relieve Shoulder Pain 
Don't let shoulder pain keep you from enjoying life – whether that means throwing a fast call or simply getting a good night's sleep. Regardless of your age or the cause of your pain, there may be a shoulder repair solution that's right for you. Centura Orthopedics & Spine – Meridian surgeon Landon Fine, DO, walks through some of the most common surgical options:  
Total shoulder replacement – In this procedure, the surgeon replaced the damaged or arthritic joint surfaced with a polished metal ball attached to a stem, and a plastic socket. Who's a candidate? Patients with osteoarthritis whose rotator cuff tendons are in good shape.  
Reverse total shoulder replacement – In this procedure, the surgeon turns nature on its head – switching the location of the socket and metal ball. That means a metal ball is attached to the shoulder bone and a plastic socket is attached to the upper arm bone, in reverse of the original arrangement. This allows the patient to use the deltoid muscle instead of the torn rotator cuff to move the arm. Who's a candidate? Fine says this procedure works well for patients who: -Have completely torn rotator cuffs. -Have fractures that can't be repaired. -Are 60 or over and have arthritic shoulders or rotator cuff tears. -Had a previous shoulder replacement that failed.  
Shoulder reconstruction – This procedure restores stability to shoulders that are prone to dislocation. The surgery involves repair of the torn or stretched ligaments so that they are better able to hold the shoulder joint in place. The torn labrum is reattached to the shoulder socket with the help of special anchors.  
Who's a candidate? Patients who have suffered a type of labral tear known as Bankart injury, which is caused by anterior shoulder dislocation.