July 10, 2020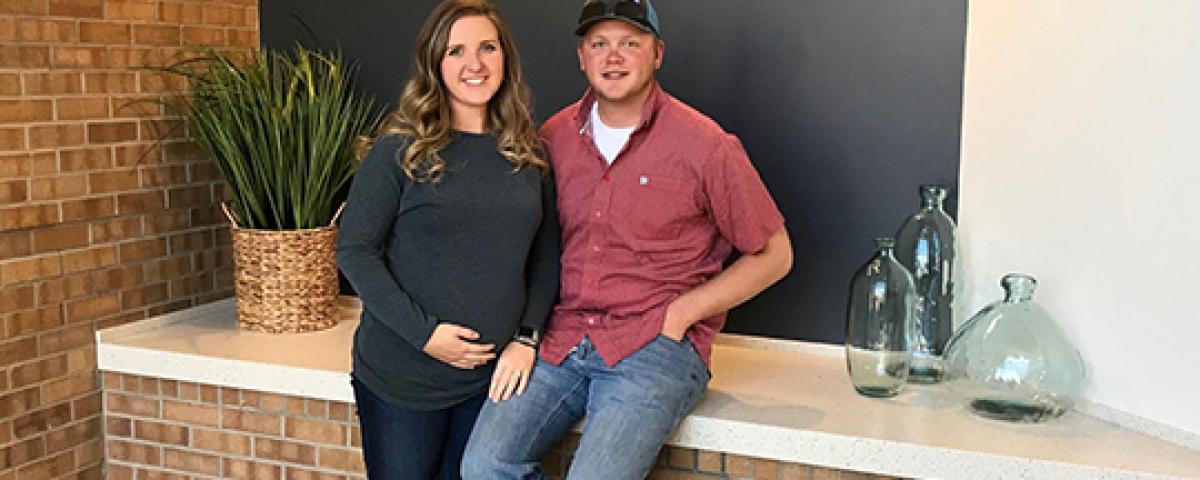 When Sara Hahn arrived at the Women's Clinic at Centura Health - St. Catherine Hospital for her regular checkup in February 2019, she was just shy of 18 weeks pregnant and expecting her appointment with Dr. Kimberly West, OB/GYN, to be a routine one. 
 
But after placing the handheld fetal Doppler against Sara's belly, Dr. West spoke five words that will fill any expectant mother with dread: We can't get a heartbeat. 
 
Sara didn't have to wait long for her worst fears to be confirmed. Clinic staff moved quickly to get her in for an ultrasound, which showed she had indeed lost her baby. Then, after consulting with Dr. West, Sara was able to schedule the necessary follow-up surgery for the next day. 
 
When Sara thinks back on that day, though, she is grateful she didn't have to wait long for the confirming ultrasound and was able to schedule surgery quickly. She called it "the perfect scenario to an imperfect situation." 
 
"Luckily, all the stars aligned, and I was able to go directly into an ultrasound room and we were able to find out, sadly, that our child had been born right into the arms of Jesus," she said. 
 
With only one ultrasound machine in the clinic and patient volumes growing and causing a backlog, scenarios like Sara's are becoming less and less common.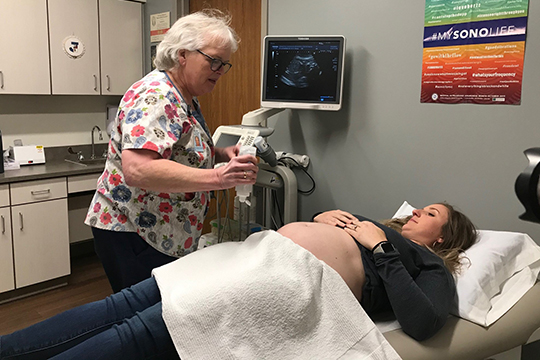 Sara would like more women to have quick access to sonograms, which is why she was excited to learn that the St. Catherine Hospital Development Foundation is raising money toward the purchase of a second ultrasound machine for the Women's Clinic.  
 
Proceeds from the Foundation's March 2020 Masquerade Ball gala event went toward the future purchase of a new ultrasound machine, and the Foundation continues to work on fundraising efforts toward the purchase. 
 
"We're really passionate about this because I couldn't have imagined having to wait hours to have an ultrasound when you're already nervous," said Sara, herself an X-Ray technician at Centura Health affiliate Rawlings County Hospital in Atwood. "And then having to wait to have another appointment with Dr. West, whereas mine was an immediate flow of door to door to door – a perfect sequence of events." 
 
Had clinic staff not been able to work her in for a sonogram, Sara might have had to wait a few hours for one at St. Catherine, which likely would have meant a delay in scheduling surgery. That wouldn't have been ideal for any patient, but especially one like her, who commutes 122 miles to the clinic from her home in Brewster in northwest Kansas.  
 
If her surgery had been delayed a day or two, she likely would have driven back to Brewster in an emotional state of mind. With surgery the following day, she was able to stay overnight with her parents in Garden City. 
 
"When you're in an emotional state, you probably shouldn't be on the highway as much because there are just a lot of tears happening," Sara said. 
 
Dr. West estimates that 40 percent of the pre-natal patients at the Women's Clinic could be involved in a high-risk pregnancy – the type that requires more frequent sonograms. with an increasing number of high-risk patients requiring them weekly, one machine and technician can't meet the demand. 
 
"The implications of not being able to provide this service in our practice is (to have to send) patients elsewhere," Dr. West said. "Maybe patients have to come back on a separate day for their ultrasound and a different day for their appointment with me, and you just don't want to do that when patients have to drive." 
 
A second ultrasound machine would make the Women's Clinic an even more viable choice for expectant mothers in southwest Kansas. 
 
"We would like to be able to offer our patients better access to ultrasound testing to reassure patients, and their physician, that their baby is doing just fine," Dr. West said. 
 
Sara and her husband, Derek, welcomed their first child, Sadie Anne, into the world on March 27. When Sara was pregnant with Sadie, she was having sonograms almost every appointment and is excited that the clinic will be getting another ultrasound machine. 
 
"We choose to come down here because this is where we feel we can get the best care for ourselves and for our baby," she said about the Women's Clinic.