July 7, 2020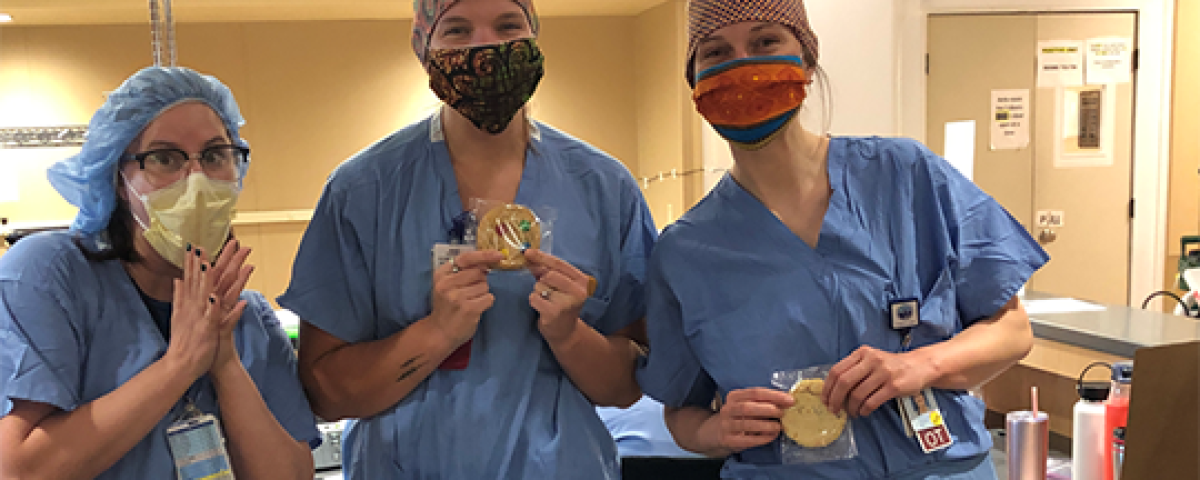 High performing, whole person care.
As a leader in health care innovation, St. Anthony Hospital's Inpatient Rehabilitation Facility (IRF) has played an important role in caring for COVID-19 patients through all stages of their care journey.  
The first hospital within Centura Health to expand its IRF unit to care for acutely ill COVID-19 patients, SAH's IRF utilized special CMS blanket clearance that allowed the unit to creatively repurpose their beds to meet patient care needs.  
With a vested interest in helping care for the hospital's sickest patients, The Physical Medicine & Rehabilitation team was instrumental in caring for patients who were admitted in the worst possible conditions. As teams adapted and learned from each other in caring for COVID-19 patients, it became clear that these patients, particularly those dependent on a ventilator for an extended time, would need post-acute care rehabilitation. The respiratory compromise, significant deconditioning, cognitive changes, and need for further medical assessment and monitoring suggested IRF was deemed the most appropriate level of care these patients. Additionally, COVID positive patients have historically proven very difficult to discharge as many post-acute care venues were not equipped to care for them.  
In a collaborative team effort under the leadership of Jessica Donaldson, IRF Manager, Christina Nocito, 7th Floor Clinical Nurse Manager, Robin Chappell, Director of Acute Care Services and with the support of Julie Stewart, Quality Director and Dr. Gerald Winston Tripp, II, Chief Medical Officer, the IRF team transformed a portion of the 7th Floor acute care unit into the IRF COVID-19 unit to temporarily meet the needs of the most critically ill COVID-19 patients in house. 
"Being a part of the COVID team, I had the mindset going in that my only goal was to try my hardest and provide the best patient care, since we had no true guidance or pathway for treating COVID in an IRF setting. It was the first time not having "clinical recommendations", or a predicted course of recovery, for a patient. I truly had to look patients in the eyes and say "I don't know what the recovery from this looks like, but I do know what other co-morbidities look like in their recovery, and I'm here to help you get back to your daily life". It was scary, but the level of trust that quickly developed on the unit between therapy, nursing staff, support staff, and the patients was strong and incredible," said Elizabeth Erb-Trefilek, the unit's primary COVID+ IRF Occupational Therapist.
"We all quickly became a team, helping each other with usually 'small things' that were difficult because of the speed with which the unit was setup, as well as being on the negative pressure unit, which led to us all getting creative. It was even more incredible to see how invested everyone was in the patients, and how much each small and large victory was celebrated. It was empowering, scary, wonderful and deeply humbling to be a part of that team, and whenever I started feeling overwhelmed, I was quickly reminded of the incredible team who was coming into that unit every day to best serve these patients who were walking through truly unknown territory," added Erb-Trefilek. 
While some things are easier said than done, that is not the case for SAH's IRF team. Together, this team quickly pooled resources and pulled together to compile a list of necessary tools instrumental in rehabilitation, including gym equipment and more. In partnership with Centura Health Enterprise, the team transformed space on the 7th Floor into a gym, while leadership collaborated to train Med/Surg nurses in IRF-specific processes and documentation so when patients were deemed medically stable, they were accepted into the hospital's 7th Floor IRF unit. 
Open throughout the most challenging days and weeks of the COVID-19 pandemic, St, Anthony Hospital's IRF unit served not only as a beacon of hope for the most acutely ill patients, but it is a symbol of the speedy, efficient and collaborative work that can be achieved when teams come together and pool resources to offer the highest level of care.  
As this chapter of the COVID-19 pandemic comes to a close and SAH's 7th Floor unit returns to a traditional care model, the success of the mobile IRF unit is a testament to the true Centura Health and St. Anthony Hospital way, illustrating urgent and efficient collaboration between all associates including clinical, support teams and administration. With the true wellbeing of our community in mind, this work is a reminder of what is most important, extending our healing ministry when our communities need us most.