July 10, 2020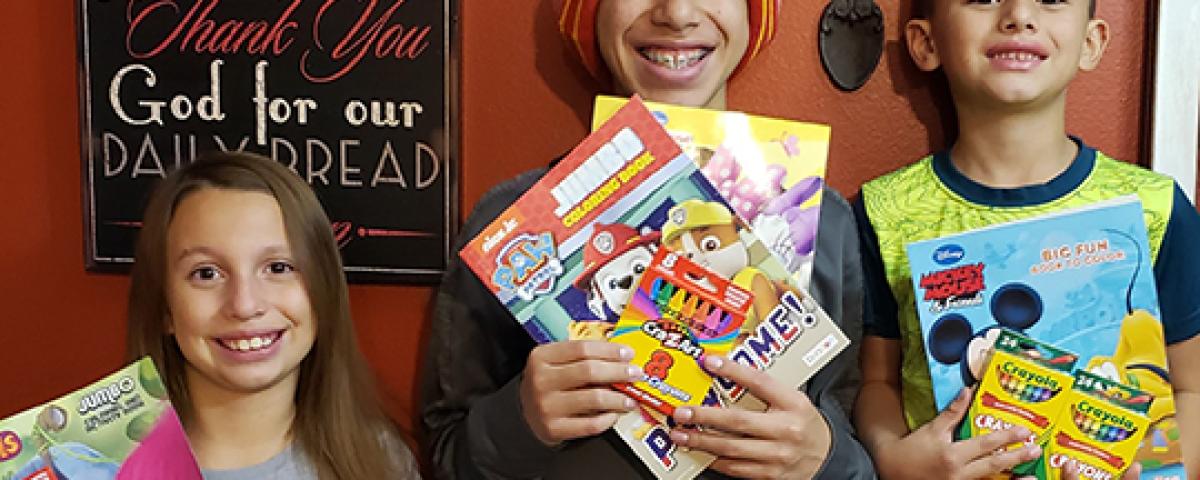 As the Morales family motored down the road in late September 2019 on their way back from the Kansas Junior Livestock Show, where the children had just shown their goats, then high school freshman Aaron already was thinking ahead to what should come next in their 4-H lives. 
 
Community service – the desire to give back – was what Aaron told his mother, Hannah, when she asked him what his goals were for the next year. 
 
Abigail, then a third-grader at Victor Ornelas Elementary School, and Andrew, then first-grader, echoed their older brother's sentiments. 
 
Centura Health - St. Catherine Hospital – specifically the Maternal Child Department – quickly came to mind, Hannah said. 
 
The Morales family, of Garden City, are no strangers to hospital stays. In 2013, Andrew was hospitalized with the flu and pneumonia. In 2016, during two separate stays, he spent almost two weeks hospitalized. Abigail spent a night in the hospital in 2017 with pneumonia. All three children have had several trips to the ER for asthma and stitches. 
 
During all the hospital stays, Hannah said, the nurses were amazing and helped her find ways to entertain the kids. 
 
The children decided they wanted to donate coloring books and crayon sets to the St. Catherine Maternal Child Department to give the children who have to stay at or spend time in the hospital something for entertainment. 
 
"I want to do something to give back to somebody who has helped us,'" Morales said is what Aaron told her. "That really struck my heart in a good way. You know, not just me but somebody along the way in your life has made a good impression on you. … It's good to give back." 
 
With a goal of 50 coloring books and crayon sets, the children began asking friends, family and 4-H members. In donations alone, they came up with 55 to 60 books and crayon sets. They used their own money to pitch in 25 to 30 more, for a total of about 85 books and crayon sets. 
 
On December 3, the family delivered their donation to the hospital. 
 
"There were two kids there that were with family. I don't know if they were waiting for Mom to have a baby, but they were just standing in the hallway, bored," Hannah said, recalling the day they dropped off their donation. "So, my kids gave them a coloring book, and when we left, they were sitting down on the floor coloring. And I told my kids, 'That's what these are for.'" 
 
Hannah speaks from experience when she says that bringing toys and games to the hospital to entertain your children is not the first thing a parent thinks about when they're headed to the hospital, especially in an emergency. 
 
"That is the absolute last thing that you think of when you're rushing to the hospital, whether it be you're the mom having the baby and you have to take the siblings with you, or they're the ones that have pneumonia," she said. 
 
After the success of their initial campaign, Hannah said, the family is looking at making this a holiday tradition.