Children's Wellness and Education
Whether you come to us for specific health issues, or you want education and resources to help keep your child healthy at home, Centura Health's children's Network provides comprehensive care for your children. From newborn care through young adulthood, we're here to support your kids as they grow. This includes annual physicals, immunizations, treatment for colds and more.
Find a Pediatrician or Family Practice Near You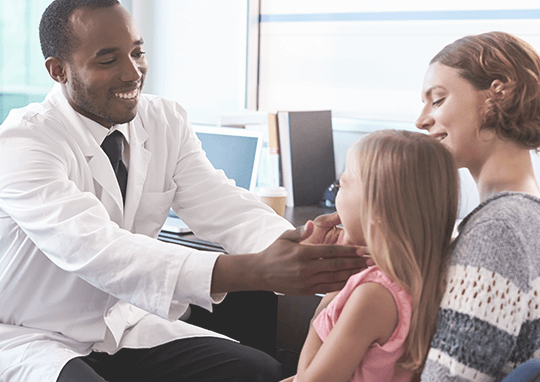 Through Centura Health Children's Network, you'll have access to experienced family medicine doctors and pediatricians who can treat and manage illness and injury with exceptional, family-centered service. Through regular checkups, our doctors can help you find problems before they become serious and take proactive steps to avoid common conditions.
Concussion Management

A concussion, whether mild or severe, requires proper treatment. In the event of an accident, Centura Health offers comprehensive concussion treatment to maximize your child's recovery.

You can help prevent concussions by making sure your child wears the proper safety equipment in team sports and a properly fitting helmet when biking, skating or rollerblading. When it comes to bicycle injuries, wearing a properly fitting helmet can lower your child's risk of serious head injury by up to 85 percent. A helmet should sit level on the head and fit snugly, not rock forward or move side-to-side when your child moves his or her head. The straps of the helmet should buckle snugly and fit under your child's ears in a "V" shape.

For these and other services, find a pediatrician or family medicine doctor.
Immunizations

Centura Health provides important immunizations to keep your child healthy. Not only are they proven to prevent disease, but they also help prevent the spread of disease to children who can't be immunized due to allergies or other health conditions. The Centers for Disease Control and Prevention provides helpful schedules on what immunizations kids should receive from birth to 6 years of age and between 7 and 18 years.
Sports Physicals

Playing sports can be an important part of growing up, teaching your kids healthy social skills, how to work as a team and the excitement and enjoyment of physical exercise. Many schools require a sports physical or pre-participation exam (PPE) before a student can play on a team or participate in sports activities.

During the physical exam, your child's doctor will:

Measure height
Check weight
Take blood pressure
Listen to heart and lungs
Feel abdomen
Check ears, nose and throat
Check eyesight 
Test strength and flexibility
Review his or her medical history
Review any problems that run in the family

 
Well-Child Visits

These complete physical exams are more frequent during your child's early years because they develop so quickly during this time. Your child's doctor will record your child's height, weight and other important information and perform hearing, vision and other screening tests when appropriate.

Even if your child is perfectly healthy, these visits are good opportunities to focus on your child's ongoing wellness. By reviewing important information on healthy sleeping habits, childhood disease, safety tips and what to expect as your child continues to grow, we can work together to help your kids have a happy and healthy childhood.