Centura - St. Anthony North Hospital
Location
14300 Orchard Pkwy
Westminster
,
CO
80023
2/15/2023: St. Anthony North Hospital is currently under construction to expand healing care to our community. This will directly impact your visit to the hospital. Please plan ahead for your visit by viewing the parking and entrance map here.
Our hospital incorporates health and wellness services for local communities. Highlights of St. Anthony North Hospital include 60,000 square feet of integrated physician clinics for both primary and specialty care, an ambulatory surgery center, birthing center with private birthing suites, Level III Trauma Center with 24/7 emergency services, 100 inpatient beds, and outpatient diagnostics center with lab and imaging services.
Built on the pillars of convenience, wellness, and person-centered care, St. Anthony North Hospital offers inpatient and outpatient care at one site, with an emphasis on preventive health, wellness and health education, we offer health services that deliver optimal healthcare value to the communities of Westminster, Erie, Brighton, Broomfield, Northglenn, and Thornton.
About Our Hospital
About Our Hospital
St. Anthony North Hospital by the numbers
Active Medical Staff: 1,081
Caregivers: 1,014
Licensed Beds: 121
2022 Admissions: 7,082
2022 ED Visits: 54,383 (144th Avenue ED: 36,254 / 84th Avenue ED: 18,129)
ED Beds: 30
Surgical Suites: 9
FY22 Uncompensated/Charity care: $66.6 million
Top-rated for quality and patient safety
ANCC Pathways to Excellence Designee
Leapfrog Hospital Safety Grade A – Spring 2021
CMS 5-Star Rating
2021 healthgrades awards
Outstanding Patient Experience Award winner in 2021, placing St. Anthony North in the top 15% of U.S. hospitals
Critical Care Excellence Award Recipient for 2021, placing St. Anthony North in the top 10% in the nation for critical care
Five-Star Recipient for Esophageal / Stomach Surgeries and Treatment of Pancreatitis for 2021
Five-Star Recipient for Treatment of Sepsis for 2021
Five-Start Recipient for Treatment of Respiratory Failure for 2021
Cardiac care
Chest Pain with Primary PCI accreditation
Chest Pain-MI Platinum Performance Achievement Award recipient from the American College of Cardiology in 2021
American Heart Association Get with the Guidelines Silver Plus STEMI Award, and Silver NSTEMI Award for Coronary Artery Disease, in 2020
We offer a full range of preventive, diagnostic, interventional, and rehabilitation cardiovascular care.
The cardiovascular catheterization labs at St. Anthony North Health Campus are available for critical interventions 24 hours a day, seven days a week.
Stroke care
Joint Commission Primary Stroke Care Certification
American Heart Association Get With The Guidelines Gold Plus award with Target Stroke Honor Roll Elite and Target Type 2 Diabetes Honor Roll for 2020
Women's health
Mothers receive natural, patient-directed care in a modern and supportive environment while benefiting from the most advanced medical care available.
Level 2 Neonatal Intensive Care Unit (NICU)
Orthopedics / joint care
State-of-the-art specialists, staff, facilities, and technology to help treat joint pain, injuries, and arthritic conditions
Spine care
Board-certified and board-eligible specialists skilled in providing diagnostic care and treatment
Professional Nursing contributes to care of patients at St. Anthony North Hospital and the surrounding community through the following services:
Bone, joint, and spine care: Nurses and nurse practitioners provide pre-and post-operative care to patients needing new joints or other surgical interventions. Nurses teach classes on what to expect while in the hospital, then support the patient and family through the hospital experience. Nurses prioritize early mobility and pain control to help patients get home as soon as possible.
Cardiology care: Nurses coordinate cardiac testing for early identification of heart disease and cardiac rehabilitation following a heart disease diagnosis. Cardiac catheterization lab and electrophysiology nurses support patients through skilled vascular procedures to improve circulation and collaborate with the Emergency Department to provide prompt interventions to reduce the negative effects of heart attacks. Cardiac nurses provide inpatients with support and monitoring to identify and manage cardiac symptoms and arrhythmias.
Emergency care: Emergency nurses drove the implementation of protocols providing optimum outcomes for sepsis, geriatric, stroke, and heart attack patients. Nurses triage patients to decrease wait times and provide prompt emergency care. Nurses support the achievement of and care provided through the Level II Trauma Certification. 
Intensive care: Nurses care for patients who need critical care, ventilation support, Extra Corporeal Membrane Oxygenation (ECMO), or Continuous Renal Replacement Therapy (CRRT) around the clock. These ill patients require highly skilled nursing interventions. Intensive Care nurses have worked to reduce patient infections and improve patient mobility and comfort, supporting both the patient and their family members.
Medical and surgical care: Nurses care with compassion for patients needing general medical and/or surgical services. St. Anthony North Hospital medical units implemented the PIVO device, which eliminates multiple blood draws for patients, making the patient experience more comfortable.
Neonatal Intensive care: NICU nurses and nurse practitioners deliver care to our smallest patients down to 28 weeks. Their focus on promoting health and development help get babies home to their families as soon as possible.
Neurology care: Nurses provide care to patients through the diagnosis, treatment, and surgical intervention processes. There is a nurse stroke coordinator who leads the St. Anthony North Hospital Stroke Certification process, ensuring top-level care for stroke patients.
Obstetrical care: Nurses provide care for our pregnant patients during the antepartum, labor, delivery, and postpartum periods. Professional nursing organizational standards have been implemented for patient safety related to electronic fetal monitoring, breastfeeding, decreasing cesarean sections, and more. 
Outpatient care: Nurses support patients who may not need an inpatient stay but need care and treatment. Our gastrointestinal lab nurses prepare and care for patients needing procedures like endoscopies or colonoscopies. Interventional radiology nurses support patients through skilled diagnostic procedures to inform their healthcare. Infusion center nurses provide outpatient intravenous medications, including chemotherapy and antibiotics.
Perioperative care: Our skilled nurses support the patient through preparation for surgery, assist during surgical procedures, and provide support and care during the recovery process. Professional nursing organization standards have been implemented by perioperative nurses, including the time-out process, reduction of micro-organisms that can result in infections, and team communication to track surgical instruments.
If you are interested in a nursing position at St. Anthony North Hospital, please visit www.centura.org/careers to learn about positions available and contact information.
Leaders
Leaders
St. Anthony North Hospital Leadership
Constance Schmidt, DNP, MHA, RN, FACHE, serves as the Chief Executive Officer (CEO) for St. Anthony North Hospital, overseeing all strategic initiatives, operations, and day-to-day planning for the hospital and health campus. As the leading member of the St. Anthony North Hospital executive team, she is instrumental in developing the future strategic and operational planning for both the health campus and ambulatory market area supporting the Centura network. With more than ten years of healthcare leadership experience, Constance is a mission-inspired executive and works to identify new programming and services that will increase access to care in the north metro Denver area.
Constance received her Bachelor of Science in Nursing from the University of Northern Colorado, Master of Healthcare Administration from Bellevue University in Bellevue, NE., and her Doctor of Nursing Practice — Executive Leadership from American Sentinel University in Aurora. Additionally, she is a board certified member of the American College of Healthcare Executives.
Christopher Johnston, MD, FACEP, is the Chief Medical Officer at St. Anthony North Hospital, where he oversees clinical operations and serves as liaison between administration and medical providers while ensuring our patients receive the highest quality of medical care.
"I am on a mission to elevate patient care and those who provide it," Dr. Johnston said. "Everyone at St. Anthony North Hospital plays an integral part in taking great care of patients. Supporting those at the bedside is my top priority."
Prior to becoming Chief Medical Officer, Dr. Johnston served as the Emergency Department Medical Director at St. Anthony North Hospital's 144th and 84th campuses.
A graduate of St. Louis University and the Denver Health Emergency Medicine Residency Program, Dr. Johnston has more than a decade of award-winning physician experience at Centura Health and hospitals across the Denver metro area.
Jessie Thurber-Dean, BSN, RN, serves as Chief Nursing Officer for St. Anthony North Hospital. She is responsible for overseeing the daily clinical operations of St. Anthony North Hospital and provides daily nursing leadership to ensure smooth operations and nursing practices across the organization.
Jessie joined Centura Health in 2018 as St. Anthony North Hospital's Director of Acute Care Services. Before joining Centura Health, Jessie served in different nursing roles ranging from a bedside nurse to a nursing leader.
Jessie is originally from the Midwest, where she received her Bachelor of Science in Nursing from St. Catherine University.
Jessie's professional mission is - "To engage, inspire and lift our associates to their highest potential while cultivating a positive work environment."
Volunteer
Volunteer
There's a reason many St. Anthony North Hospital volunteers have been sharing their time for 5, 15, and even 20 years. It's because they get something important back—the clear knowledge that they're making a difference.
If you're interested in a rewarding volunteer opportunity, we would love to talk with you. Whatever your interest, it's likely we have an area that needs your skills. The three general areas of service are:
Hospitality
Patient care areas
Clerical support
Contact volunteer services with any questions.
Phone: 720-627-3172
Email: [email protected]
Most of our volunteer opportunities are available at St. Anthony North Hospital located at 144th Avenue & I-25; however, we also have openings at our 84th Avenue Neighborhood Health Center located at 2551 W. 84th Avenue in Westminster.
All applicants make a one year commitment to volunteering.
Each week, volunteers work one, 4-hour shift. Additional shifts are negotiable.
TB test compliance and a willingness to receive an annual flu shot.
Ongoing education to ensure up-to-date information is received.
Currently, we partner exclusively with students from these local programs- Arrupe Jesuit High School, Bollman Technical Education Center, and Mapleton Early College. Staff recommendation is required.

Please Note: we are currently accepting volunteer applications, but at this time, we do not have the application available online.
$66.6 million
FY22 Charity/Uncompensated care
St. Anthony North Hospital provides whole person care for all of our local communities. Highlights include 60,000 square feet of integrated physician clinics for both primary and specialty care, an ambulatory surgery center, birthing center with private birthing suites, Level III Trauma Center with 24/7 emergency services, 100 inpatient beds and an outpatient diagnostics center with lab and imaging services. In early 2022, we will open a new, state-of-the-art orthopedic center just south of our health campus.
Connecting care for orthopedic patients
At St. Anthony North, we help our orthopedic patients achieve the best possible outcome by providing coordinated care from pre-admission testing through recovery. Whether you are turning to us for an orthopedic problem, joint replacement, or spine surgery, you'll be cared for by a team of orthopedic experts in a hospital setting expressly designed to deliver seamless, safe, and stress-free care.
Visitor Information
You can count on us to be there for you. We understand that times of illness and injury affect not only our patients, but also their loved ones. The information below will help you before, during, and after you come to our hospital. Our goal is to provide the level of patient experience that enhances your peace of mind and earns your full confidence.
Visitor information
Visitor information
Please read Centura Health's current COVID-19 visitor restrictions. Contact the hospital directly for additional individual visitor policies that may apply.
All visitors of patients at our hospital enjoy equal visitation privileges consistent with patient preferences and subject to the facility's clinical restrictions. Visitor policy may be subject to change. Please adhere to any adjustments to permitted visitors, as posted in our facility.
Visitors under the age of 14 must be escorted by a responsible adult.
At 8 pm, seven days a week, the main lobby entrance will be locked. After 8 pm, enter the hospital through the emergency department walk-in entrance.
There may be times when visitors are asked to leave to better meet the needs of our patients.
Patients and visitors may park in the parking lot on the west side of the hospital. Free parking is available 24 hours a day. Free valet parking is available Monday – Friday from 5 am to 6 pm.
Vending machines
Vending machines are located on the first floor and accept cash and credit card payments.
Café/Cafeteria
North Peak Café
Location:  On the first floor
Monday - Friday: 7 am - 7 pm
Weekend hours: 7 am - 7 pm
Our gift shop is conveniently located on the first floor. Visitors can find a variety of gifts and convenience items for their family members or loved ones in the hospital. Call 720-627-3166 to get the most updated hours.
Letters and packages are delivered to patients Monday - Friday. If you have letters to be mailed, you may give them to your nurse. Flowers addressed to you will be delivered to your room unless you are in the intensive care unit. Only Mylar® balloons are permitted in the hospital. Latex balloons can cause allergic responses and interfere with hospital safety systems.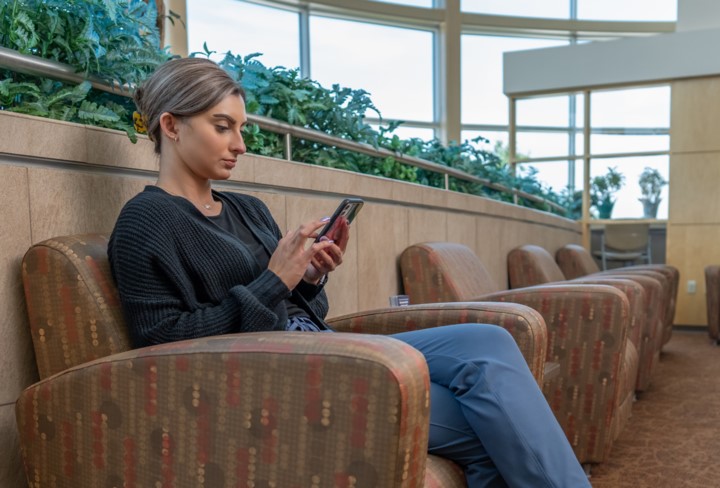 Our Foundation
We invite you to join a dedicated group of extraordinary people who are instrumental in supporting the north metro community through St. Anthony North Hospital programs and the building of the new St. Anthony North Hospital at 144th and I-25.
St. Anthony North Hospital Foundation donors come from all walks of life, contributing gifts of every size for a wide variety of purposes, and they donate to a wide variety of programs. Together, we share a commitment to the common good and a willingness to put our resources to work advancing the healing ministry of Christ upon which the St. Anthony North Hospital mission is built.
We believe giving is part of healing, and the value of philanthropy is not just in dollars raised, but also in the emotional investment people make with us when we help connect them to our mission. Every gift counts. Thank you for your gracious generosity.
Programs
St. Anthony North Hospital strives to help our community members in living a healthy lifestyle the promotes wellness and prevents disease and illness through a variety of community health and wellness programs.
Community Engagement Request
Community Engagement Request
Updated 11/1/23
As we fully integrate with CommonSpirit Health, we are pausing community engagement commitments until June 1, 2024. However, you are welcome to submit an application using the guidelines below. We will notify you directly if your organization is selected for funding. We appreciate your patience and look forward to working with you in the future.
How to submit an engagement request
CommonSpirit hospitals receive many requests each year asking us to engage in community events and programs. Supporting the communities in this way is a reflection of our mission to improve the health of the people we serve, especially those who are vulnerable, while we advance social justice for all.

Before submitting a request, please consider the following:
Sponsorships and events should align with our mission and values; community health improvement or prevention; and one of the hospital's Community Health Needs Assessment priorities.
Please make your request at least 60 days prior to your event or sponsorship deadline.
Completion of this form does not guarantee a donation or sponsorship.
We are only able to support non-profit organizations.
Completed requests will be considered by an internal committee. We will contact you regarding the status of your request when we reopen community engagement giving June 1, 2024.