Your health and safety are our top priority.
At OrthoColorado, we are committed to providing our patients and their families with a remarkable health care experience, and that has not changed under the threat of COVID-19. From the moment you enter our doors, your safety is our top concern. We've taken all the necessary precautions and steps to protect our patients, staff, and visitors' wellbeing. With these new processes and safety measures in place, your focus can be on your orthopedic surgery and recovery — we'll take care of the rest.
Watch to learn more about the changes we've made to ensure your safety, including our pre-admission process, social distancing measures, and commitment to CDC cleaning guidelines.
Our nationally-recognized team, specializes in helping patients get back home to the life they love.
OrthoColorado Hospital is Colorado's premiere destination for orthopedic care with highly experienced, board certified orthopedic surgeons who specialize in a wide variety of orthopedic specialties
Committed to living life to the fullest.
At OrthoColorado Hospital, your surgery and recovery are our top priority. Our world-class doctors and care team can help get you back to the life you love. Ron's commitment to staying active was put on hold when he developed back pain. His trust in OrthoColorado Hospital allowed him to get back to living life to the fullest.
Returning to daily routine, pain-free.
You don't have to let back pain control your life. Your experience at OrthoColorado Hospital can be life changing, because our care team will make it their mission to get you back to your active life. When Larry's back pain put a halt on his daily routine, he trusted OrthoColorado to get him back to doing the things he loved – pain free.
Living with pain wasn't an option.
Our care team knows that injuries happen and can affect everything you do. At OrthoColorado our goal is to get you back to your active life. When back pain left Kelly walking with a cane, she trusted OrthoColorado Hospital to get her back in the gym and running again. Following a successful spine surgery, Kelly is back out on the trails running with her pal, Dakota.
Knee pain used to steer my life.
Knee pain doesn't have to keep you from doing the activities that you love. Bob's knee pain was so bad it prevented him from skiing, biking, and hiking. He trusted the care team at OrthoColorado Hospital to put Bob back in control. Following a successful knee surgery, Bob is biking and skiing like he did in his 20s.
Three surgeries and back to hiking.
We know that pain can negatively affect a person's quality of life. At OrthoColorado we focus on whole person care and treat our patients like people. Stacie trusted the doctors and entire care team at OrthoColorado Hospital to help her get back on her feet. After three surgeries, we're happy to report Stacie is back to hiking, and enjoying Colorado's great outdoors.
Meet Our Orthopedic Experts
Our surgeons are renowned for their talent, knowledge and experience in their orthopedic specialties. And our team is steadfast in our commitment to provide orthopedic patients and their families a truly remarkable experience.
PIVO Needle-Free Blood Draw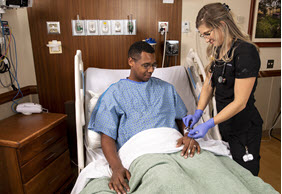 Centura Health offers needle-free blood draws for inpatients using needle-free blood draw technology. This innovative technology in the hands of our expert caregivers has eliminated over 400,000 needlesticks for patients and reduced the risk of accidental needlesticks for our healthcare providers.