Our nationally-recognized team, specializes in helping patients get back home to the life they love.
OrthoColorado Hospital is Colorado's premiere destination for orthopedic care with highly experienced, board certified orthopedic surgeons who specialize in a wide variety of orthopedic specialties
Stacie
Three surgeries and back to hiking.
We know that pain can negatively affect a person's quality of life. At OrthoColorado we focus on whole person care and treat our patients like people. Stacie trusted the doctors and entire care team at OrthoColorado Hospital to help her get back on her feet. After three surgeries, we're happy to report Stacie is back to hiking, and enjoying Colorado's great outdoors.
Meet Our Orthopedic Experts
Our surgeons are renowned for their talent, knowledge and experience in their orthopedic specialties. And our team is steadfast in our commitment to provide orthopedic patients and their families a truly remarkable experience.
PIVO Needle-Free Blood Draw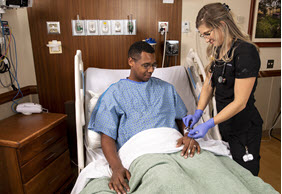 Centura Health, the region's health care leader, is now the first hospital system in Colorado and Kansas, and among the first in the nation, to offer needle-free blood draws for inpatients using needle-free blood draw technology.