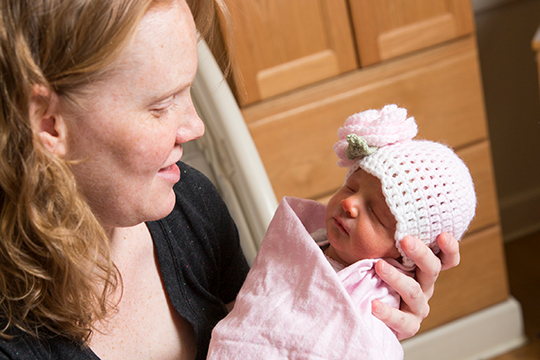 Unique Birthing Experience
Mom and baby will receive excellent, evidence-based medical care, focused on wellness and whole person care.
With pre- and post-natal massages available in your private room, or in our dedicated massage room, our providers and staff will make your path to motherhood an unforgettable experience.
More about our birthing center services.
Our Amenities Include:
Spacious private rooms with all the conveniences, including many with views of the Front Range
In-room, oversized Jacuzzi tubs for water births
Daybeds in each room for the comfort of birth partners
Comfortable, spacious family waiting areas with WiFi access
Alternative pain management methods available, including nitrous oxide, epidural, massage and acupuncture
The option to have a midwife for delivery or your own doula for support
Breastfeeding coaching and support during, and after, your stay
Diverse, Patient-Centered Care Team:
Birth and new parent classes to help moms, dads and family members prepare for birth, baby and beyond
Lactation and breastfeeding support is provided to all new moms who want to breastfeed
World-class obstetricians and midwives
Dedicated C-section operating suites
Pediatric hospitalists on call 24/7
Level 2 NICU, with a Children's Hospital Colorado neonatal nurse onsite 24/7
Award-Winning Care

Colorado Knows that The BirthPlace Does It Best!

Did you know that The BirthPlace was awarded the Colorado Can Do 5 Breastfeeding Award in 2012 from the Colorado Department of Public Health?

What Does That Mean?

For mothers who deliver at hospitals that have received the Colorado Can Do 5 Breastfeeding Award, they will receive these five best practices during their stay:

Newborn is breastfed in the first hour after birth
Only breastmilk is fed to the newborn while in the hospital
Newborn and mom will stay in the same room while in the hospital
A pacifier is not provided to, or used by, the new born while in the hospital
Lactation information is provided to the new mom before leaving the hospital, including a Help Line number to call when needed
Access to the Mothers Milk Bank of Colorado, allowing new moms access to donor breastmilk for babies with a medical need

Other Awards to Note

The BirthPlace received the distinguished Blue Distinction + Award from Blue Cross Blue Shield. This award is for expertise in delivering quality specialty care and safety and cost efficiency in delivering specialty care.

In addition, The BirthPlace has also been noted on the Hepatitis B Birth Dose Honor Roll. We have been recognized by the Immunization Action Coalition (Colorado Department of Public Health and Environment) as being a part of the Hepatitis B Birth Dose Honor Roll for having 92.2% of infants born at our hospital receive the Hepatitis B birth dose. The average percent of infants receiving the hepatitis B birth dose at Colorado hospitals is 76.4% and the Healthy People 2020 goal is 85%.
Tours & Birth Classes
Take a tour of The BirthPlace or register for one of our birth education classes.
Find an OB/GYN Near You
Schedule an appointment with one of our OB/GYNs.