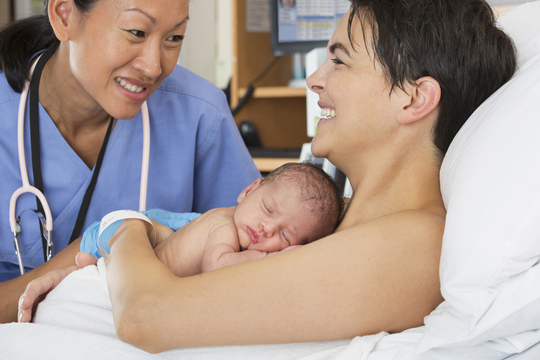 Spacious private rooms, jacuzzi tubs, daybed for birthing partner and spacious waiting areas create a comfortable environment where families can feel at home while they welcome their new little one. Our care team also offers massage, aromatherapy, music and other holistic methods to give moms an extra level of support through their delivery. 
Birth Classes
We have classes to help moms, dads and family members prepare for birth, baby and beyond.
Looking for an OB/GYN?
If you are pregnant and looking for prenatal care, we offer excellent providers who care for you throughout your pregnancy and delivery. 
Birth Center Services & Amenities

World-class obstetricians
Pain management options if you choose including epidural and nitrous oxide.
Birth classes to help moms, dads and family members prepare for birth, baby and beyond
Spacious private rooms – some with views of the Front Range
Each room includes an over sized Jacuzzi tub or shower, cable TV, DVD and wireless internet
Dedicated C-section operating suites
Prenatal and postnatal massages are now available in the BirthPlace. Post-natal massages are offered in the massage suite or in your own room.
Daybeds in each room for the comfort of birth partners
Comfortable, spacious family waiting areas with free wireless Internet access
Designated "Quiet Time" to give new moms and baby time to bond and rest
Lactation and breastfeeding support information is provided to all new moms who want to breastfeed their baby
Birthing tools available include: birthing balls, squatting bars, peanut balls, Jacuzzi tubs, DVD/Stereo tuners, and a Labor Tool Box which includes aromatherapy, essential oils, massage lotion, massage tools, bath salts and hot/cold packs.
Pre-Delivery Birthplan and Pre-Admission

We know there is a lot that moms- and dads-to-be have to do to get ready for the arrival of a new baby. To give you a jumpstart on what needs to be done for the actual birth of your child, our pre-admission birth program allows moms-to-be the option to be fully admitted before they go into labor, minimizing the interruption of their childbirth process. 

Please print the following forms, complete and return to the BirthPlace. If you prefer to wait, these forms will be available to you during your 20th week gestation prenatal visit at the doctor's office.

 
Awards

Colorado Can Do 5 Award

The BirthPlace received the Colorado Can Do 5 award from the Colorado Department of Public Health.

Hospitals that receive the Colorado Can Do 5 breastfeeding award implement five best practices:

Newborn is breastfed in the first hour after birth
Only breast milk is fed to the newborn while in the hospital
Newborn and mom stay in the same room while in the hospital
A pacifier is not provided to or used by the new born while in the hospital
Lactation information is provided to the new mom before leaving the hospital, including a Help Line number to call when needed

The BirthPlace received the distinguished Blue Distinction + Award from Blue Cross Blue Shield. This award is for expertise in delivering quality specialty care and safety and cost efficiency in delivering specialty care.

The Birthplace was also awarded Hepatitis B Birth Dose Honor Roll. We have been recognized by the Immunization Action Coalition (Colorado Department of Public Health and Environment) as being a part of the Hepatitis B Birth Dose Honor Roll for having 92.2% of infants born at our hospital receive the Hepatitis B birth dose. (The average percent of infants receiving the hepatitis B birth dose at Colorado hospitals is 76.4% and the Healthy People 2020 goal is 85%)