Centura - Longmont United Hospital
Location
1950 Mountain View Ave
Longmont
,
CO
,
80501
At Longmont United Hospital, our staff members treat the entire patient because we understand how powerful the connection is between the body, the mind, and the spirit. As a Planetree Designated® Hospital, our staff members adhere to the highest possible standards. We are proud of our reputation as a patient-centered hospital, both in Boulder County and around the nation.
About Our Hospital
About Our Hospital
Longmont United Hospital is a full-service acute care hospital located in Longmont, Colorado. We have provided high-quality, whole person care for more than 60 years to Longmont and the surrounding communities. Longmont United Hospital was one of the first to be designated as a Planetree hospital in Colorado. This means we provide a person-centered approach in every aspect of care. Our caregivers treat the entire person because we understand the powerful connection between the body, mind, and spirit. We combine advanced technology, innovative treatments, and compassionate healing for patients at every stage of life.
Longmont United Hospital by the numbers
Active Medical Staff: 651
Admissions: 4,249
FY20 ED visits: 23,470
Caregivers: 501
Licensed beds: 186
Emergency Department: 32 Private rooms
Surgical suites: 6 OR suites, 2 dedicated OBGYN/C-section suites 
FY21 uncompensated/charity care: $13,183,276
Distinctive Services
Orthopedic & spine care
Gold Seal Certified by The Joint Commission
Breast care center
Nationally accredited by American College
of Surgeons
Emergency care
Level III Trauma Center
Stroke care & neurosciences
Primary Stroke Center designated
Birth center with Level II NICU

Surgical services
Center of Excellence for Robotic Surgery by Surgical Review Corporation
Heart & vascular care
Leaders
Leaders
Longmont United Hospital Leadership
On a mission to elevate the community's well-being through service and unwavering support, Chad joins us from Northwest Medical Center in Tucson, Arizona, where he served as CEO of the 300-bed facility. Chad has more than 15 years of experience in high-performing, participative management, team-concept organizations, and he has led operations for both small and large organizations including new acquisitions and multi-site locations.
Chad earned a Bachelor of Science in Health Service Administration from West Virginia University Institute of Technology, and a Master of Science in Health Administration from Virginia Commonwealth University-Medical College of Virginia.
Derick, who is on a mission to inspire and embrace the complete body and spiritual wellbeing of others, began his career with Centura Health in 2019, serving as a regional CFO. In his role, he lead two regional financial teams that encompassed five hospitals and nine clinics with a focus on building up department leaders, patient outcomes, hospital efficiencies and financial sustainability.
Derick has been a valuable member of Centura's rural team, and his work over the last four years has been instrumental in driving long-term sustainability for our Managed Critical Access Hospitals in some of the most challenging rural markets in Colorado and Kansas.
In addition to his time at Centura, Derick served as the VP of Finance and Operations at Perkins County Health Systems, and as CFO of Decatur Health Systems.
Derick earned a Bachelor of Science in Business Administration in accounting from the University of Nebraska – Lincoln. He earned his Associate of Arts and Science from Colby Community College in Colby, Kansas.
Antony Pearson, MD, Chief Medical Officer at Longmont United Hospital, has served Longmont and the northern Colorado region for more than 25 years. He joined the LUH team in June 2020 and brings a breadth of experience as a practicing physician and as a leader.
Prior to Centura Health, Dr. Pearson was a hospitalist at Mckee Medical Center, serving as the Regional Hospitalist Director from 2018-2019 and was the Chief of Staff 2017-2019. In addition to the leadership role at Mckee Medical Center, Dr. Pearson has been part of numerous oversight and leadership boards and committees throughout his career. He was a member of the Pharmacy and Therapeutics Committee, Peer Review Committee, and Chairman of the Internal Medicine Department at Mckee.
Dr. Pearson earned his medical degree at the University of Minnesota and did his residency at Baylor College of Medicine. He came to Longmont upon completion of his residency and practiced internal medicine from 1995-2007. From 2002-2007, Dr. Pearson was the Chairman of the Medicine Department and Director of the TCU at Longmont United Hospital.
Alison Bruckner, Chief Nursing Officer/Chief Operating Officer, is on a mission to create an environment of well-being for associates and patients. Ali has over 25 years of experience as a critical care nurse, PICU and NICU nurse, house supervisor, Director of Emergency Services, COO, and CNO. Before joining the Centura Health team, Ali most recently worked with Mercy One in Des Moines, Iowa, as the Market Director of Nursing: Acute Care and Emergency. There, she provided administrative oversight of 10 Acute Care Departments and three Emergency Departments, including quality, safety, finance, and engagement oversight for all departments.
Ali has a Bachelor of Science and Nursing from Clarkson College in Omaha, NE, a Master of Business Administration from the University of Nebraska, and a Doctorate of Nursing from Aspen University in Denver.
Board of Trustees
Hal is the Principal at Elevate2Lead which is a progressive leadership coaching experience that combines dynamic leadership coaching with strategic business consultation and management of the self to create heightened personal and organizational success.  He has first-hand experience with mergers and navigating the subsequent mission and cultural challenges with clarity. Hal is also the Founder/Board Chair of Pearl, a 501(c)(3) that provides hope and stability to single-parent families. Hal received his BSEE from the University of Colorado, with graduate studies at the University of California, Irvine.
Hal and his wife live in Longmont and have three children and nine grandchildren.
Kevin has worked at LifeBridge Church in Longmont for the past 16 years. Previously, he served in Columbus, OH, as the CFO for VOCA Corp and a senior manager at Ernst & Young with an emphasis in healthcare.
A graduate of Ohio University, Kevin and his wife, Cathy, are owners of Colorado Art Glass, a custom leaded glass company in Erie, Colorado. Together, they have three adult children and four grandchildren.
Meredith has been a member of the LUH Board of Directors since July 2020. She is a native of Longmont and was born and raised in the community. She graduated from Colorado State University with a degree in health and exercise science. Subsequently, she attended Benedictine College in Lisle, IL, where she completed her master's in public health with an emphasis in community education. Upon completing her advanced degree, she moved to Virginia, where her husband completed his surgical residency in the U.S. Navy while she focused on raising their two daughters. Upon completing his training, they moved to Okinawa, Japan, where Meredith was involved with American Welfare and Woman's Association, a non-profit focused on positively impacting the Okinawan community. 
Upon returning to the United States, she continued to be active in the community and their children's school. In 2016, she returned to her hometown of Longmont. She became active in A Woman's Work, a local non-profit whose mission is to be a timely fund for local women, bridging the gap from need to financial stability. She currently serves on the Executive Board and has been responsible for organizing many events in the local area. In addition to her extensive volunteer work, she works part-time as a kindergarten paraprofessional at Blue Mountain Elementary school. Meredith enjoys spending time with her husband and two daughters in her free time. She enjoys all the recreation that Colorado offers and spends as much time as possible either boating or in the mountains.
Sally Barbe, BSN, worked at Longmont United Hospital for 41 years in various nursing roles, retiring in June 2018 as the Orthopedic Service Line Director. Sally served on many committees during her employment with LUH and is passionate about quality, safety, and the patient experience. Now that Sally is retired, she is excited to serve on the LUH Board of Directors with her nursing background and knowledge of LUH and the surrounding community.
Nick Robles is currently an Environmental Health Specialist with Boulder County Public Health and has been an active member in the Longmont Community for several years. Previously, Nick was a Latino Community Health Specialist with Boulder County Public Health and a Youth Development Specialist with the Peace Corps.  Nick has served on several committees in the Boulder County and Longmont area and is looking forward to providing perspective about community health needs to the LUH Board of Directors.
Dr. Sachin K. Talusani is a board-certified radiologist with fellowship training in body imaging. He has lived and practiced in the Longmont community for 21 years. He has served as Medical Staff President and is currently Vice President of Colorado Imaging Associates. He enjoys the outdoors, snowboarding, tennis, golf, and travel, along with spending time with his wife, children, and Bichon Frise.
Chris Thomson, MD, is on a mission to constantly pursue better with a servant's heart and dreamer's imagination and formerly served as the Centura Group Vice President and Physician Executive for the Greater Colorado and Kansas Group. Chris has a depth of experience in hospital and health system leadership.
Prior to joining Centura in 2021, Chris served as the Senior Vice President and System Chief Medical Officer for Centura Health, Inc., based in Lynchburg, VA, where he led clinical care across the system for 12 departments and service lines and oversaw a medical staff of over 1,200 members. He focused on developing a clinical delivery model engineered for success in a value-based environment.
Chris has a passion for global healthcare and has spent considerable time in China, Africa, and the Caribbean developing systems of quality care in austere environments. He founded a company dedicated to providing sustainable healthcare to global clients and holds multiple patents supporting quality healthcare.
Chris earned a bachelor of science in biology and psychology from the College of William & Mary, a master of science in physiology and biophysics, and a Doctor of Medicine from the Medical College of Virginia. He completed a residency in emergency medicine at Carolinas Medical Center Department of Emergency Medicine.  Chris also earned his master of business administration in general management from the University of Virginia Darden School of Business.
Tom Gessel, MHA, became Group President for Centura Health in October 2017 following a year of serving as Senior Vice President of Operations and Network Development for Centura Health and four years as President and Chief Executive Officer of Mercy Regional Medical Center in Durango.  He has also served as the executive sponsor of human resources for Centura Health.
In his current role, Tom provides operational leadership to the Greater Colorado and Kansas Group, which includes Longmont United Hospital in Longmont, Mercy Regional Medical Center in Durango, and Penrose—St. Francis Health Services in Colorado Springs, St. Anthony Summit Medical Center in Frisco, ST. Catherine Hospital and Bob Wilson Memorial Grant Hospital in western Kansas, St. Mary-Corwin Medical Center in Pueblo, and St. Thomas More Hospital in Cañon City.  Tom's commitment to delivering whole person care provides a critical foundation to grow and connect services and resources in these markets and supports our mission-driven associates and physicians in building healthy communities.
Prior to joining Centura Health, Tom had extensive regional health system and network development experience in both urban and rural markets in Kentucky, Ohio, Tennessee, and Virginia.  He earned a bachelor's degree from the University of Akron and a master's degree in health administration from Medical College of Virginia —Virginia Commonwealth University. He is a fellow in the American College of Healthcare Executives.
Medical Staff Officers
Dr. Rush has been an Emergency Physician at LUH for the last 12 years. He began his medical career in the late 90s as a technician in the ER and had the opportunity to learn the value of every member of the medical team throughout two decades of experience. Dr. Rush became the Medical Staff President in January 2020, just as COVID was being identified as a serious threat. He is constantly impressed with the resilience of hospital providers — nurses, technicians, doctors, and all the ancillary services — as the struggles and fears of this last year and a half have affected everyone. Dr. Rush's mission is to foster an environment where effective teams can provide excellent patient care. In doing this, he wants to ensure LUH is the best location to get medical services for the citizens of Longmont and its surrounding communities.
David Donahue, DO, FACS, believes the best approach to care starts by building a trusting relationship between the provider and patient. Dr. Donahue recognizes that surgery may be a frightening experience for some. That is why he ensures that his patients are fully informed about their surgical conditions and fully understand their options, including non-operative options when available. 
Dr. Donahue manages routine and complicated general surgery conditions, has a strong interest in minimally invasive surgical procedures and is one of the leading robotic general surgeons in the area. He leverages this advanced technology in a vast majority of his practice, including hernia surgery, gallbladder, and biliary surgeries. He also incorporates robotic technology into surgeries that involve the small intestine, stomach, and colon for both cancer and benign conditions with improved outcomes and faster recovery. 
Dr. Donahue received his bachelor of arts in molecular, cellular, and developmental biology from the University of Colorado in Boulder. He earned his medical degree from the Chicago College of Osteopathic Medicine in Downers Grove, IL. Dr. Donahue traveled to Portsmouth, VA, and completed his residency training at the Naval Medical Center Portsmouth. After completing his residency, he was an active-duty Navy surgeon for four years, including a combat deployment to Afghanistan. He is currently obtaining his master's in business administration from the University of Northern Colorado in Greeley, CO.
Dr. Donahue enjoys spending time with his family and enjoying all that Colorado offers. He likes skiing in the winter and boating and hiking in the summer. Dr. Donahue also enjoys traveling whenever possible.
Volunteer
Volunteer
Thank you for your interest in the Longmont United Hospital's volunteer program. We are proud of our volunteers and the roles they play in our hospital. Your willingness to share your time and talent makes a huge difference in the mission of our hospital.
The Volunteer Services department is committed to providing equal opportunity for all applicants. Volunteer Services has the responsibility to recruit the most qualified volunteers, determine their capabilities, and make assignments accordingly.
Please contact our Volunteer Office if you have any questions: 303-651-5205 or [email protected]
Apply now - adult volunteer program
Volunteer requirements
Must be at least 16 years of age and enrolled in high school for the junior volunteer program
Must be 18 years of age or older for the adult volunteer program
Friendly and customer-service oriented
Adult program: Provide a minimum of a six-month commitment to volunteer
Junior program: Committed to volunteer once a week for the duration of the session:

Fall (September through December)
Spring (late January through April)
Summer (June through August)

Honest, reliable, and able to be professional in all interactions
Ability to maintain confidential information
Physically able to be on your feet, as needed, some areas more than others
Application process
Complete application
Interview with hospital staff
Pass TB and background screening, provided by the hospital
Have an annual flu vaccine
Provide proof of COVID vaccinations
Follow the dress code and wear required volunteer uniform
Complete orientation and service training
Please note: Volunteer opportunities are not clinical internships or rotations.
Volunteer opportunities are subject to change:
Gift Shop
TAILS: Therapy Dog program
LAUNCH
Caring Clowns
Hand Arts of sewing or knitting items (at home)
Pharmacy
Patient Ambassador
Emergency Room Volunteer
Day Surgery
Entertainment Cart
Birthplace
Intensive Care Unit (ICU)
Main Welcome Desk
Surgery Waiting Room
Registration Desks
Volunteer Office
Messenger Service
Special Projects
Therapy Dogs: TAILS Program
Thank you for your interest in the Longmont United Hospital (LUH) therapy dog program. TAILS (Therapy Animals In Loving Service) has been delivering smiles to patients, visitors, and staff since 2002. We currently have more than 35 teams.

Therapy dogs must be calm, obedient, and not easily distracted. They must love meeting many kinds of people. They should know basic commands, walk calmly on a loose lead, and be easily managed by their handlers in varied settings. For our program, dogs must be at least 2 years old; handlers must be at least 18 years old or at least 14 years old and accompanied by a parent. 

TAILS handlers are hospital volunteers. All volunteers must attend the hospital's orientation program, complete a background check, be tested for TB and get a flu shot each year. LUH is a drug-free and tobacco-free workplace.
All therapy dog teams MUST be registered with a national therapy dog registration association. Registration provides liability insurance when you do volunteer work with your dog. Recognized registries for our programs include:
Not all dogs are suited for this kind of work. Nor are all handlers. Before contacting us, we strongly recommend that you read "Dog Assisted Therapy: Is Your Dog a Good Fit?" It is an excellent article by Patricia McConnell, PhD. It is available online. 

For more information, contact Longmont's Volunteer Office and speak to a TAILS volunteer. The TAILS volunteer will provide information about the program and will ask for your participation information to apply for the program. Please complete the appropriate adult volunteer application to participate as a volunteer.
60+
Years caring for the Longmont community
$13,183,276
FY21 uncompensated charity care
For more than six decades, Longmont United Hospital has been here for the community — all ages, all walks of life, and all health care needs. We are a not-for-profit hospital that profits everybody in the region with superior medical services and a center of excellence combined with compassionate care. We are with you for life: from childbirth through your senior years.
Achieving precise outcomes in Joint Replacement
The Joint Care Program at Longmont United Hospital is committed to creating a successful and calming experience for our patients. Our surgeons employ the most advanced techniques to improve outcomes, including robotic-assisted knee replacement. We also are one of the few programs to offer patients an orthopedic nurse navigator to help guide them through their entire joint replacement journey from pre-admission testing to outpatient rehabilitation.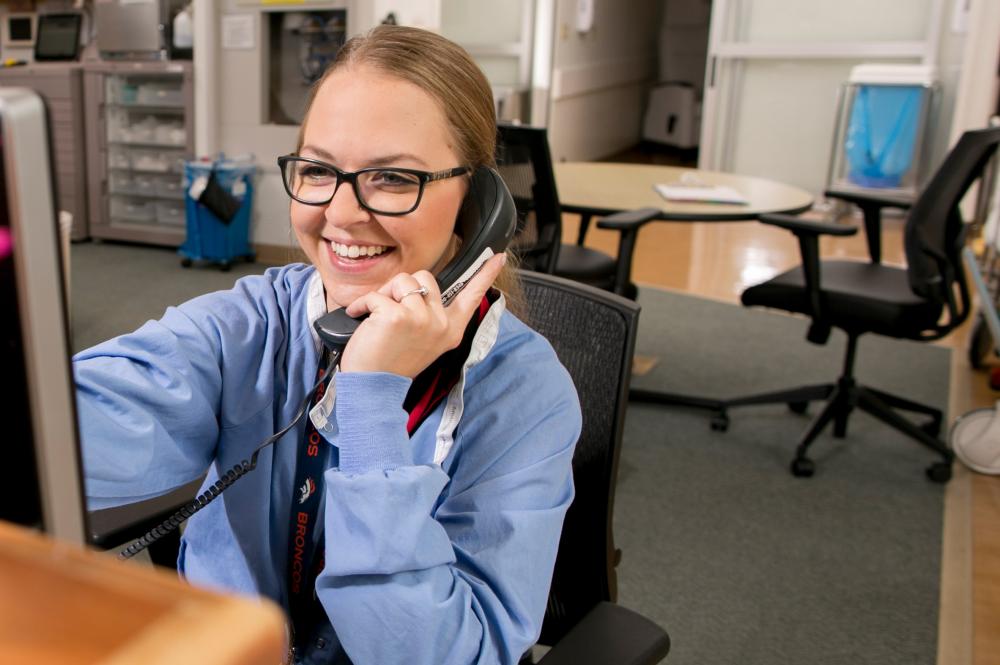 Visitor Information
Welcome to Longmont United Hospital! Here, you will find all the resources you need to help guide you through your first visit to our facility. Whether you are a patient or a visitor, we hope that you find this page useful and informative.
All Visitor Information
All Visitor Information
Please read Centura Health's current COVID-19 visitor restrictions. Contact the hospital directly for additional individual visitor policies that may apply.
Public Transportation Information:
Bus schedules are available at the main information desk between 7:30 am - 8:00 pm. 
For direct assistance with bus schedules, visit RTD Denver website.
For Call-N-Ride reservations, visit the Longmont Call-N-Ride. A curb-to-curb service that can be scheduled two hours to two weeks in advance. Phone: 303-994-3551.
Special Transit is now called "Via." Via promotes self-sufficiency for people with limited mobility by providing caring, customer-focused transportation options. For more information visit Via Colorado.
Located in the main lobby.
The gift shop offers items such as:
Cards
Flowers
Gifts
Candy
Jewelry and clothing
Baby items
Personal care items
Hours:
Due to COVID-19 the hours are currently 10:00 am to 1:00 pm Monday through Friday. Hours are subject to change. Call the Gift Shop for more information and updated schedules.
Coffee is available in the family dining areas located on each floor. We also have several eateries for our guests to choose from, serving breakfast, lunch, dinner, coffee, and snacks.
The Artwalk Café
Hours:
Monday - Friday: 7AM - 2PM
Saturday and Sunday (including holidays): Closed
For your convenience, we have fresh food items made on site, vending snacks, drinks and coffee  in the eating area of the café available at any time.
Longmont United Hospital Chapel
Located on the main level of the hospital between the main lobby and laboratory services and is always available to those seeking a quiet place for prayer, meditation and solitude.
The Garden of Peace
Located near the chapel where there is soft music and seating for additional quiet space outdoors.
Being hospitalized and dealing with illness can be an extremely challenging time. Many people find that talking with a chaplain can help during this period. Chaplains in our Spiritual Care Services department provide support to patients, family members, friends and staff members at Longmont United Hospital.
An integral part of our health-care team, chaplains are non-denominational, interfaith, or no faith and are available around the clock to be a caring presence. They offer spiritual and emotional support and listen with openness and understanding. Patients, families and staff are encouraged to call a chaplain when experiencing fear, anger, loneliness, helplessness, anxiety, grief or loss, or when they just need someone to talk to. Chaplains are also available for times of celebration, prayer and rituals.
We are available to support all our patients regardless of beliefs and religious affiliation. Patients do not need to be affiliated with a congregation or faith community to call a chaplain. However if you do belong to a community, we can notify a faith community of your choice to make a visit. Your minister, Rabbi or other spiritual advisor is welcome to visit you or your family members at any time.
Request a visit from a chaplain:
Phone: 303-651-5280
Or dial '0' from your room to speak with an operator
Centura Health provides complimentary wireless Internet access for guests and visitors.
What do I have to do to connect?
Simply connect to the guest network using your wireless network settings. When you first connect, you'll notice "Terms and Conditions" for Centura Health's Guest Network. When you click "Accept", you'll be automatically granted access. Guests must have experience in connecting to wireless networks as Centura Health does not provide any assistance in connecting your device to the wireless network.
Where and when can I connect?
The wireless network is available throughout the hospital. The wireless network is available 24/7.
Disclaimer
Enjoy your time on our wireless network. As with any public wireless network, we strongly recommend guests take measures to secure their devices and internet communications. We encourage using virtual private networks in conjunction with personal firewalls and virus protections to mitigate risk to personal data. It is the user's responsibility to take precautions and provide security measures suited to their situation and intended use of the service. Our wireless network should not be used for inappropriate or unlawful purposes.
Centura Health is not responsible for any personal information that is compromised.
Centura Health is not responsible for any damage caused to your hardware or software while at any Centura Health facility.
Please Note: Because this is a free service, Centura Health does not provide technical support for your device or assistance in connectivity. Guests and visitors should understand how to configure their computer or device and know what hardware or software is necessary to connect to the wireless network.
We strive to promote a healing environment for our patients, guests, associates, volunteers and the community. The use of any tobacco product is prohibited in all areas of our campus including buildings, leased facilities, offices, grounds, vehicles, parking lots, and ramps. If you are a patient and use tobacco products, please speak with your physician or nurse for options that are available to you during your stay in the hospital. Thank you for your cooperation.
Every Centura Health hospital provides you with a patient representative to help you have a better hospital experience. Our representatives address and investigate your concerns, and then respond to you and your family with findings and recommendations for how your concerns can be resolved. Find patient representative information.
How Needle-Free Blood Draw Works
Centura Health is excited to bring this procedure and technology to our entire ecosystem of health care locations, especially for our most vulnerable patients. 
Centura Health, the region's health care leader, is now the first hospital system in Colorado and Kansas, and among the first in the nation, to offer needle-free blood draws for inpatients – fulfilling our promise of delivering compassionate and whole person care.
Centura Health is continually striving to improve the patient experience and lead Colorado and Kansas in comfort and quality. By using this revolutionary technology Centura Health's caregivers can collect blood samples from an indwelling peripheral IV line, enabling a high quality blood draws directly from the vein without having to stick patients with another needle. This standard of care is currently in use in several of Centura Health's Denver metro area hospitals and will become available at the other Centura Health hospitals throughout the year as part of our system-wide rollout and commitment to an improved patient experience while in our care.
More than 400 million blood draws occur annually in hospitals around the U.S., informing more than 70% of all clinical decisions. Many of these are conducted in a hospital setting on patients that receive as many as three blood draws daily. This number can increase dramatically for the 30% of U.S. hospital patients that are considered Difficult Venous Access (DiVA) due to obesity, age, and disease, a condition that makes blood collection more challenging.
Our Foundation
The Longmont United Hospital Foundation is dedicated exclusively to supporting healthcare services and associates at Longmont United Hospital through philanthropy. The goal of the Foundation is to help ensure that Longmont United Hospital will have the best possible facilities and equipment to help you and your loved ones when medical care is needed. Your tax deductible gifts help us achieve this important mission.
Programs
Community health and wellness is a priority to us, that's why we're proud to offer a wide range of community programs, classes and events designed to keep you well.
DAISY Award
DAISY Award
The DAISY Foundation was established in 1999 by the family of J. Patrick Barnes. Patrick died at the age of 33, from complications of an auto-immune disease. During his eight-week hospital stay, his family was impressed by the care and compassion his nurses provided, not only to him but to everyone in the family. They created the DAISY Award in Pat's memory to recognize those nurses who make a big difference in the lives of so many people.
Our DAISY Award honorees demonstrate Longmont United Hospital's core values. They also demonstrate excellence through their clinical expertise and compassionate care. They are recognized as role models in our nursing community. Longmont United Hospital is proud to be a DAISY Award partner, and will recognize one of our nurses with this special honor every other month.
Each DAISY Award Honoree will be recognized at a public ceremony in her/his unit, and will receive:
a beautiful certificate
a DAISY Award pin
a hand-carved stone sculpture entitled A Healer's Touch
In addition, their clinic/unit will celebrate with Cinnabon® cinnamon rolls – a favorite of Patrick's. The Barnes family asks that whenever nurses smell that wonderful cinnamon aroma, they stop for a moment and think about how special they are.
Community Engagement Request
Community Engagement Request
Centura Health hospitals receive many requests each year asking us to engage in community events and programs. Supporting the communities we serve in this way is a reflection of our mission: to extend the healing ministry of Christ by caring for those who are ill and by nurturing the health of the people in our communities.
Before submitting a request, please consider the following:
Sponsorships and events should align with our mission, vision and values. All sponsorships and events should relate to community health improvement or prevention and one of the hospital's Community Health Needs Assessment priorities.
For school-based inquiries, it is the policy of Longmont United Hospital to accept requests from school districts or a school district's foundation in funding district-wide events or initiatives, rather than partner with individual schools.
Please make your request at least 60 days prior to your event or sponsorship deadline.
Completion of this form does not guarantee a donation or sponsorship.
We are only able to support non-profit organizations.
Completed requests will be considered by an internal committee. We will contact you within 30 days regarding the status of your request.