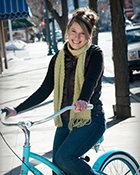 Christina Rinderle, Durango
"I could not be more pleased..."
I had a long overdue surgery on my foot to address a problem that had been causing me chronic pain. My primary care provider recommended Dr. Lucas, and I'm so glad that he did. Dr. Lucas talked me through the entire procedure and clearly explained what he would do to correct the problem. He set realistic expectations for my recovery time and offered recommendations to aid in the process.
I was nervous before the procedure as I had never undergone general anesthesia, but Dr. Lucas and his team talked me through each step and helped to calm my nerves. The nursing staff at Mercy was exemplary. Everyone I came into contact with was kind, patient, and explained everything along the way. I could not be more pleased with the results following the surgery.
The fact that Dr. Lucas is an orthopedic surgeon specializing in the foot and ankle gave me great confidence. He is knowledgeable, friendly, confident, and he continues to educate himself, offering cutting edge technology and skills delivering stunning results.