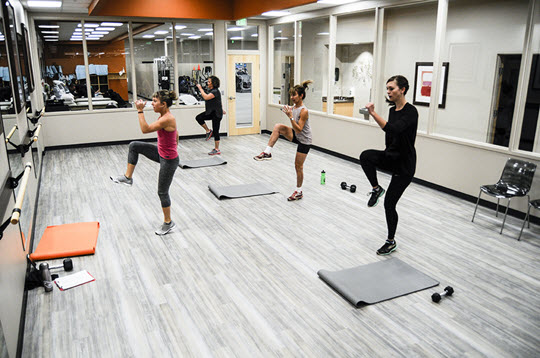 Yoga
Core Fitness
High Intensity Training
Low Impact Training
Six Weeks to Better Balance and a Stronger Self
RAD Roller Mobility
Athletes on the Mend
Mercy Sports Medicine Group Fitness Classes
Monday
Tuesday
Wednesday
Thursday
Friday
Flow Yoga
5:15 pm
RAD Mobility
12:00 pm (noon)

Core/Balance
5:15 pm
Boot Camp
6:45 am
RAD Mobility
1:00 pm

Rockin Yoga
5:15 pm
Boot Camp
6:45 am
*Classes limited to 20 participants per class.
Group Fitness Class Cost
Drop in: $15 (First class FREE)
5 class punch pass: $55
10 class punch pass: $100
10 class punch pass: $180
Targeted Fitness Programs
In addition to the classes above, Mercy Sports Medicine offers a variety of unique programs for individuals with needs that are not typically addressed by traditional fitness offerings. 
To register in advance, contact us.
Phone: 970-259-9530
Boot Camp
Focused on high intensity intervals and functional movements like push-ups, squats, sprints, and sit-ups, this class provides a killer workout and a chance to sweat. It delivers results with a total-body approach and an emphasis on core and cardiovascular/muscular endurance.

Core/Balance
This class offers the best movements for improving endurance, balance, cardiovascular fitness and muscular strength using your body weight, dumbbells and resistance bands. Expect a great fullbody, overall conditioning and toning workout composed of 30-second high intensity intervals.

Rad Mobility
Using RAD Rollers and other myofascial release tools, this class offers relief in motion to help with tightness, tension, and reduced movement. We are using SMR or Self Myofascial Release techniques to facilitate mobility. All abilities are welcome to learn how to increase mobility and relieve stress, tightness, and tension.

Rockin' Yoga
This is a high energy, musically inspired, energizing, fun-focused, cardio-yoga for all ages. No yoga or dance experience is necessary to join in on the fun. This class gives you a much needed "pick-meup" with a sprinkle of fun!

Flow Yoga
In this class you will increase flexibility, balance, and strength while burning away toxicity and emotional tension through a conscious connection of breath and movement. The class is appropriate for all levels with modifications given to suit individual needs.