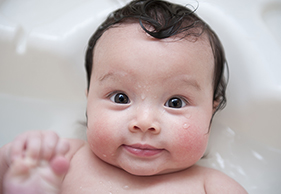 When moms need extra courage, babies need extra care, dads need extra reassurance and families need extra understanding, the Birth Center at St. Francis Medical Center delivers. Learn more about our services.
Tour the Birth Center
We encourage parents-to-be to tour the Birth Center. You will see the preadmission office, observation area, birthing rooms, family waiting area and other areas important to your stay and will learn about your birth options, hospital procedures and services. Tours are included in all childbirth classes, can be taken during one of our regularly scheduled tours or you can get a sneak peak by taking a virtual tour.
Birth Classes
We offer a variety of classes to support you through the birth of your baby and afterward.
Online Birth Classes
Please contact us for more information about online childbirth classes.
Phone: 719-571-3125
Choosing an OB/GYN?
With an array of outstanding Ob/Gyns to choose from, it's easy to find a doctor that is right for you and your baby.
Need a Pediatrician?
Consider Centura Health Physician Group Pediatrics NorthCare in Colorado Springs.
We have a number of services available to new and expecting families. Use the following contact information for specific services.
Patient Units:
Labor and Delivery PreAdmission: 719-571-3003
Mother Baby Unit: 719-571-3400
NICU: 719-571-3276
Labor and Delivery Triage: 719-571-3303
Family Education:
Birth Classes: 719-571-3125
Fertility Care (Natural Family Planning): 719-571-3472
Breastfeeding:
Breastfeeding Hotline: 719- 571-3018
Breastfeeding Mothers Group and Baby Weigh-In Registration: 719-571-3101 
The Lactation Center Boutique: 719-571-3100 
Outpatient Lactation Support Appointments: 719-571-3100 
Breast Pump Rentals and Sales: 719-571-3100 
Breastfeeding Supplies: 719-571-3100 
Mother's Milk Bank (information on donating): 303-869-1888