Centura - St. Francis Hospital
Location
6001 E Woodmen Rd
Colorado Springs
,
CO
,
80923
Since its inception in the late 1880s, St. Francis Hospital has been infused with vision and dedicated to clinical excellence, whole person care and serving the unique needs of its communities. Founded by the Sisters of St. Francis and the Sisters of Charity, St. Francis Hospital celebrates the value of each person's life by lovingly offering care to people regardless of who they are, what they believe or where they're from. We seek to combine finely honed medical skills with a compassionate touch to care for the whole person, body, mind and spirit. In this manner, we strive to create healing sanctuaries that carry on the ministry of Jesus Christ.
About Our Hospital
About Our Hospital
Expert and compassionate care, honoring and respecting patients and their families
St. Francis Hospital opened in August 2008. This 195 licensed bed facility is the only full-service hospital in Northern Colorado Springs and features a modern Birth Center, Level III Neonatal Intensive Care Unit, Pediatric Care Unit, Emergency Department, Level III Trauma Center, Imaging Services, Surgical Services and Critical Care Unit. It is also the home base for the Flight For Life Colorado air ambulance helicopter service.
St. Francis Hospital by the numbers
Active Medical Staff: 1,170
2022 ED Visits: 47,628
Licensed Beds: 257
Surgical Suites: 16
FY22 Uncompensated/Charity care: $193.2 million
Professional Nursing contributes to care of patients at St. Francis Hospital and the surrounding community through the following services:
Cancer Center:
Penrose-St. Francis Cancer program has received designation as Centers of Excellence from the Commission on Cancer (CoC), National Accreditation Program for Breast Centers (NAPBC), National Quality Measures for Breast Centers (NQMBC), National Accreditation Program for Rectal Cancer (NAPRC), American College of Radiology (ACR), and the Lung Cancer Screening Center of Excellence (LCOE). These Cancer Centers of Excellence demonstrate that our oncology nurses are nationally certified, providing the highest level of expertise in delivering chemotherapy, radiation, medical, surgical and end of life care. Nurse Navigators support the patient throughout their cancer journey from diagnosis to survivorship through education, care coordination, support and facilitating hospital and community resources. Radiation Oncology nurses provide targeted treatments and assist patients in reducing side effects from those treatments. Clinical Research nurses provide care and support patients enrolled in clinical research trials. Palliative Care nurses support end-of-life decision-making and pain management throughout the cancer journey. Nurses facilitate multiple community support groups, integrative therapies, cancer screening, and community events to help patients through their cancer experience.
Intensive care:
ICU nurses specialize in caring for a broad spectrum of patients that require extensive monitoring and an advanced level of care. Our patient population includes medical, surgical, trauma, stroke, and post-operative cardiothoracic patients. Our nurses provide care to trauma patients aged 15 years and older and medical/surgical patients aged 18 years and older. The diverse patient population challenges nurses to continually develop an extensive skill set. ICU nurses encounter a variety of patients who have undergone coronary artery bypass grafts (CABG), valve repairs, aortic aneurysm repair, as well as those that require intra-aortic balloon pumps (IAPB), Impella (left ventricular assist device), and continuous venovenous hemodialysis (CVVHD/CRRT) support. Stroke care offers both systemic and intracerebral tPA as well as any needed euro interventional radiology (NIR) procedures. We believe in a multidisciplinary approach to providing excellent patient care. Our interdepartmental relationships allow our staff to treat patients and families holistically. The team works together towards a common goal of excellent patient experience and a welcoming work environment. The ICU leadership and staff promote shared governance through dynamic unit and hospital committee involvement. Nurses are encouraged to further their education and career through certification and continuing education.
Emergency and trauma care:
Our Emergency and Trauma nurses deliver care continuum through all stages of life. The nursing team implements care delivery protocols which are evidence-based and provide superior outcomes for sepsis, geriatric, stroke, cardiac, medical, pediatric, and trauma patients. Nurses utilize evidence-based guidelines for triage which assist in decreasing wait times and provide prompt or immediate emergency care for high acuity patients. Our nursing team has assisted in the achievement of Level I Trauma Certification from the American College of Surgeons at Penrose Hospital and Level III Trauma Certification at St. Francis Hospital; additionally, Primary Stroke Certification from the American Heart Association at both campuses.
Medical/Surgical care:
Nurses care with compassion for patients needing general medical and/or surgical services. Acute Care nurses have protocols to reduce hospital-acquired infections to influence hospital length of stay and increase patient comfort. Advanced training for our patient population has been completed in order to provide proper care for our various medical diagnoses.
Neurology care:
Nurses provide care to patients through the diagnosis, treatment, and surgical intervention process. There are Nurse Stroke Coordinators who lead the Penrose St. Francis Hospital Stroke Certification process, ensuring top-level care for stroke patients.
Neonatal Intensive Care Unit (NICU):
We are a 54-bed Level III Neonatal Intensive Care Unit staffed with highly trained neonatologists, advanced practice providers, and nurses who specialize in caring for high-risk newborns. Our amazing nursing team cares for babies from 23 weeks gestation to term infants requiring specialized care. We have a high-risk transition team that is made up of highly skilled nurses who have advanced training. This training includes intubations, UAC/UVC placement, along with arterial sticks with assistance from the APP team. They attend high-risk deliveries, go out on ground transports, and are the NICU PICC team. Our Level III NICU utilizes state-of-the-art equipment to take care of sick and preterm infants, including monitors, ventilators, high-frequency ventilation, nitric oxide therapy, therapeutic hypothermia, and many other services. In addition, we have two couplet rooms in which the mother and infant requiring minor NICU support may board together as patients. Our nursing team is also very involved and has many different opportunities in different performance improvement projects and committees in the NICU.
Outpatient care:
Gastro-Intestinal Lab: GI Lab Nurses prepare and care for patients needing procedures like endoscopies or colonoscopies. Infusion Services: Penrose-St. Francis provides high-quality short- and long-term infusion services for a variety of illnesses with a focus on comfort, compassion, and convenience. Our Infusion Centers are staffed with Registered Nurses certified in Chemo/Biotherapy administration, Pharmacist, Pharmacy Techs, Phlebotomists, and Schedulers who all specialize in Outpatient Infusion and Chemotherapy services. Therapy is provided in a stress-free and comfortable environment.
Perioperative care:
Nurses work collaboratively with surgeons, anesthesiologists, techs, reps, and other support staff to care for the patient undergoing surgery. Whether preparing patients for surgery, working with them intraoperatively in the operating room, or focusing on their post-operative treatment, nurses remain a vital pillar of patient-centered care. Nurses' primary job functions and interventions in perioperative care include patient education, safety awareness for both patients and staff, infection prevention, and interprofessional communication. Our nurses ensure that they are at the top of their field by achieving certifications including ASPAN, CAPA, CPAN, and CNOR.
Peripherally inserted central catheter (PICC) team:
The PSF PICC/VA Nurses provide ultrasound-guided vascular access via PICC, midline, and difficult PIV placement. They lead CLABSI prevention efforts by providing evidence-based specialty care, as well as patient and staff education at both Penrose and St. Francis campuses.
Rehabilitation services:
Nurses provide care to individuals who required continued medical services as well as specialized rehabilitation care in collaboration with a multidisciplinary care team in order to create an individualized care plan to assist patients to achieve maximum independence.
Spinal care:
Nurses provide compassionate care to those undergoing spine surgery or treatment for spinal trauma. Alongside a multidisciplinary team, nursing prioritizes early and frequent mobilization, increased pain control, and the education needed to continue healing after discharge.
Women's and children's professional services:
The Birth Center at St. Francis Hospital provides a family-friendly and comforting environment during the most joyous occasion. We offer a variety of classes to prepare you for delivery and beyond. Classes are taught by certified, trained professionals and include Childbirth Preparation, Breastfeeding, Baby Care, Sibling Class, Infant/Child CPR, Car Seat Safety, Support Groups, and more. Baby-Friendly USA, Inc. has declared that The Birth Center at St. Francis Hospital has been designated as a Baby-Friendly Hospital for 2017-2022, the first hospital in Colorado Springs with this designation. The Baby-Friendly Hospital Initiative (BFHI) is part of a global program sponsored by the World Health Organization (WHO) and the United Nations Children's Fund (UNICEF). A Baby-Friendly Hospital must meet guidelines supporting both breastfeeding and mother-baby bonding. Postpartum: Postpartum nurses work with patients who have recently given birth, offering both care and education to help the new mother prepare to care for her baby after she leaves the hospital. They work with lactation specialists to help the patients learn to breastfeed and receive education on proper latch and nutrition. Postpartum nurses are trained to watch for signs of postpartum depression and to provide support and treatment. The nursery nurse assists in the immediate care provided to newborns following their delivery in the Postpartum unit. Many of our Postpartum nurses have earned their specialty certification in Maternal Newborn Nursing (RNC-MNN), demonstrating their advanced knowledge and understanding of patient care needs. As a Baby-Friendly designated hospital, our Postpartum nurses complete 20+ hours of training and education to help support and promote parent-infant bonding and exclusive breastfeeding. This training helps to ensure that our nurses are providing the optimal experiences with their new family member.
Leaders
Leaders
St. Francis Hospital Leadership
Patrick Sharp, MBA, serves as the Chief Executive Officer of St. Francis Hospital. In his position, Patrick lives his passion for healthcare and his mission to be a leader who inspires others to flourish in a balanced life through faith, integrity, accountability, and the pursuit of knowledge.
Patrick excels at relationship building and transparent communication. He enjoys creating lasting connections with both internal and external partners. As CEO, Patrick cultivates strong, trusting relationships with the board, associates, advanced practice providers, physicians, and volunteers to impact the health and wholeness of every life, every neighbor, and every community St. Francis serves.
Prior to joining St. Francis, Patrick served as CEO of Centura Mercy Hospital in Durango. Before serving as CEO at Mercy, Patrick served as the President & CEO at Fairview Range Regional Medical Center in Hibbing, MN, where he was responsible for the overall leadership, strategic planning, and operation of the licensed 175-bed hospital, as well as primary and specialty care clinics and home health and hospice services.
During his tenure with the Fairview Range healthcare system, Patrick also held the senior leadership positions of Chief Operating Officer and Vice President of Clinic Operations and Radiation Therapy, supporting operations and strategic initiatives in both inpatient and ambulatory settings.
Patrick received a Bachelor of Science in Chemistry and a Master of Business Administration from Augsburg College in Minneapolis, MN. He was a member of the Minnesota Hospital Association's Policy & Advocacy Committee and previously served on the board of the Hibbing Community College Foundation.
To help strengthen both his faith and leadership skills, Patrick is currently pursuing his master's degree in Philosophy with an emphasis in Theology. He is married to Dr. Sereen Sharp, and they have four children: Kade, Kyler, Cale, and Adelle.
Kevin Wikoff serves as the Market Chief Financial Officer for Penrose and St. Francis Hospitals. On a mission to live life to the fullest and bring joy to all those around him, Kevin has served in numerous leadership roles at Centura Health since 2009. Throughout his tenure with Centura, Kevin led the fiscal management of multiple hospitals simultaneously, and collaborated with leadership teams and physicians to drive rapid improvement and strategic service line growth.
Most recently, Kevin served as CFO at St. Anthony and OrthoColorado hospitals where he supported teams during the height of COVID-19.
Kevin enjoys spending time with my family and friends, cooking great meals and spending quality time together, camping and RVing in the summer, and going on adventures with his wife, Jeryl, and their two children, Hollin and Wyatt.
Kristi Olson brings more than 20 years of health care experience to Penrose and St. Francis Hospitals in her role as Market Chief Operating Officer.
Kristi also served as the CEO of St. Thomas More Hospital in Canon City. Prior to her leadership at STM, she was the Vice President of Operations for PSF.
Kristi earned her Master of Science, Bachelor of Science in Physical Therapy from Thomas Jefferson University in Philadelphia, Pennsylvania, Magna cum Laude. Additionally, she earned her Bachelor of Science at the United States Naval Academy in Annapolis, Maryland.
Volunteer
Volunteer
Volunteers are an integral part of St. Francis Hospital. Our volunteers serve in over 100 departments throughout St. Francis Hospital, and the service our volunteers offer is truly a gift from the heart.
St. Francis wants to provide the very best patient care, and our volunteers play an important role in this. As a volunteer, you will derive great personal satisfaction while working with a team of dedicated staff and other volunteers.
For more information, contact volunteer services: 719-776-5315 or [email protected]
Apply now - adult volunteer program
Apply now - pet ambassador program
To apply for the No One Dies Alone program, email [email protected], the No One Dies Alone coordinator, or submit applications to the Spiritual Care Department at St. Francis Hospital.
Volunteer requirements
For the adult and teen volunteer programs:
Volunteers are needed seven days a week between the hours of 8 AM and 8 PM, later hours are available at the St. Francis Hospital Emergency Room.
Must be 18 years of age or older for the adult volunteer program
Must be 16 years of age or older for the teen volunteer program
Applicants must be vaccinated for COVID-19 and Flu — volunteers will be asked to provide a copy of their vaccination record 
Work one three or four-hour shift/week
Attend an orientation session once accepted
For the No One Dies Alone program:
Must be 18 years of age or older
Applicants must be vaccinated for COVID-19, and Flu - volunteers will be asked to provide a copy of their vaccination records 
Must be a St. Francis Hospital associate and/or St. Francis Hospital volunteer with a minimum of 3 months of service within the organization
Have an on-sight interview with the No One Dies Alone Coordinator
Attend and complete a St. Francis Hospital No One Dies Alone training and orientation
Must not have had a death in their family during the past year
Commit to two-hour shifts (four hours max. when called to sit a vigil - a No One Dies Alone volunteer will be provided with a coordinator and pertinent telephone numbers for a scheduled vigil)
Attend at least one dying patient a year to stay active with the No One Dies Alone program
Attend at least one Gathering per year
Sign up for days and times available to be contacted for service
Application process
Complete paperwork - print and complete the following documents (two recommendation letters are required):

Letter of Recommendation

Please mail, fax, or email your Letter of Recommendation to:
St. Francis Hospital Volunteer Services
6001 E Woodmen Road
Colorado Springs, Colorado 80923
Email

Complete the application form and contact Volunteer Services.
Adult Volunteer Program
After completing the online application, the prospective volunteer will learn about the St. Francis Hospital mission, core values, customer service program, volunteer opportunities offered at each site, and the training requirements needed before their volunteer service can begin.
Prospective volunteers will have the opportunity to review all position descriptions that appeal to them. On-the-job training will be provided when the volunteer receives his/her volunteer assignment.
Teen Volunteer Program
We are currently not taking applications at this time, please check back for updates.
No One Dies Alone Program
No One Dies Alone (NODA) is a national volunteer-centered program started by Sandra Clarke, CCRN, at PeaceHealth (Eugene, OR) in 2001. Its goal is to provide companionship and support for dying individuals so that no patient dies alone. The program is now a model for compassionate end-of-life programs in hospitals across the country. The program began at St. Francis Hospital in July 2000 and strives to provide compassionate companionship to the dying who have no family or friends to be with them in their last days, to ensure that they do not die alone.
No One Dies Alone trains hospital associates and volunteers to become compassionate companions who offer end-of-life presence and support to patients who are near the end of life and who have no family or friends at their bedside. Trained volunteers provide 24-hour availability to dying patients who do not wish to be alone. During the vigil, companions may hold the hand of the patient, play soothing music, read to the patient and assist in other comfort care measures. They serve patients in shifts, sitting at the bedside until the patient's death or a family member arrives.

The heart of this work is about being rather than doing, about compassionate presence and heartfelt intention rather than fixing, solving, answering, or resolving issues for others. To be a calming presence and truly compassionate with another requires no small amount of personal and spiritual maturity, as well as a capacity for reflection on the volunteer's life. 
No One Dies Alone volunteers receive orientation and training that is more process-oriented with an appropriate amount of content and protocol to provide a framework for the volunteer to be successful. All No One Dies Alone volunteers must be either a St. Francis Hospital associate or a volunteer through St. Francis Hospital Volunteer Services and have been volunteering for at least three months. No One Dies Alone gives Penrose Hospital associates the opportunity to provide comfort care to patients outside of their regular work day. St. Francis Hospital associates must register with Volunteer Services, complete a No One Dies Alone application, be interviewed and be accepted as a No One Dies Alone volunteer, and complete the No One Dies Alone training prior to beginning to sit vigils.
Competencies
Works cooperatively with others as well as independently
Follows organization's confidentiality and infection control guidelines
Respects a patient's spiritual beliefs
Understands and follows directions
Demonstrates compassion
Demonstrates an ability to be a calming presence, and use silence well
Demonstrates emotional availability
Demonstrates appropriate personal and professional boundaries
Demonstrates sensitivity to end-of-life issues
Not all positions are available at all sites:
Patient Care
Emergency Department
Nursery
Patient Care Ambassador
Patient Transport
Radiology
Rehabilitation
Surgical Services
Gift Shops
Greeters and Escorts
Information Desks
John Zay Guest House
Pharmacies (In-Patient/Out-Patient)
Surgical Waiting Rooms
Clerical 
Offices
Special Projects
Spiritual Care
Eucharistic Minister
Knitters  
Baby Hats  
Comfort Shawls
Mission Outreach
Volunteering at St. Francis Hospital has benefits for you as well. We thank our volunteers with:
Complimentary meal the day you work your shift ($8.00 allotment)*
Service Pins, Awards – presented the month following; Name on Recognition Board at 1,000 hours of service level
Annual Luncheon during National Volunteer Week
*FREE Flu vaccine each year
TB Quantiferon Test
Special parking
*Pharmacy discount – 10 % on over the counter/non-prescriptive items
*Gift Shop discount - 20% on all regular priced gift items (excluding candy, flowers, magazines, sundries and sale items)
*Use of the St. Francis Hospital Wellness Center
Labyrinth (Spiritual Care offers an instruction pamphlet)
* Volunteer identification required (name badge and/or uniform)
$193.2 million
FY22 Charity/Uncompensated care
St. Francis Hospital's range of clinical specialties provides the expertise you need to manage your health and wellness. Our leading-edge teams deliver remarkable care, high-quality outcomes and unparalleled patient satisfaction among a wide variety of medical specialties, services and programs to help you get well and stay well.
Welcoming new life into our community
Helping families in our community grow has a special place in our hearts and in our hospital. We offer the highest level of prenatal and pregnancy care, including pregnancy planning and support for healthy pregnancies as well as a maternal fetal medicine program and neonatal intensive care unit should Mom or baby need extra specialty care.
Visitor Information
You can count on us to be there for you. We understand that times of illness and injury affect not only our patients, but also their loved ones. The information below will help you before, during, and after you come to our hospital. Our goal is to provide the level of patient experience that enhances your peace of mind and earns your full confidence.
Visitor information
Visitor information
Please read Centura Health's current COVID-19 visitor restrictions. Contact the hospital directly for additional individual visitor policies that may apply.
All visitors of patients at our hospital enjoy equal visitation privileges consistent with patient preferences and subject to the facility's clinical restrictions. Visitor policy may be subject to change. Please adhere to any adjustments to permitted visitors, as posted in our facility.
Visitors under the age of 14 must be escorted by a responsible adult.
At 8 pm, seven days a week, the main lobby entrance will be locked. After 8 pm, enter the hospital through the emergency department walk-in entrance.
There may be times when visitors are asked to leave to better meet the needs of our patients.
Patients and visitors may park in the parking lot in front of the main inertance and adjacent lots around the hospital. Free parking is available 24 hours a day. Free valet parking is available Monday through Friday from 7 am - 3:30 pm. Please see the security office, located at the emergency department, for assistance after hours.
Café/Cafeteria
Peak View Café
Location:  On the G level
Weekday hours
Breakfast: 6:45 am - 9:30 am
Lunch: 11 am - 1:30 pm
Dinner: 5 pm - 6:30 pm
Weekend hours
Breakfast: 8 am - 10 am
Lunch: 11:30 am - 2 pm
No afternoon or dinner
Healing Grounds Coffee Bar
Location:  On the first floor, next to the information desk
Monday - Friday: 6:30 am - 2 pm
Closed on weekends
Our gift shop is conveniently located on the first floor, to the left of the information desk. Visitors can find a variety of gifts and convenience items for their family members or loved ones in the hospital. Call 719-571-1101 to get the most updated hours.
Letters and packages are delivered to patients Monday - Friday. If you have letters to be mailed, you may give them to your nurse. Flowers addressed to you will be delivered to your room unless you are in the intensive care unit. Only Mylar® balloons are permitted in the hospital. Latex balloons can cause allergic responses and interfere with hospital safety systems.
ATMs are located on the first floor next to registration.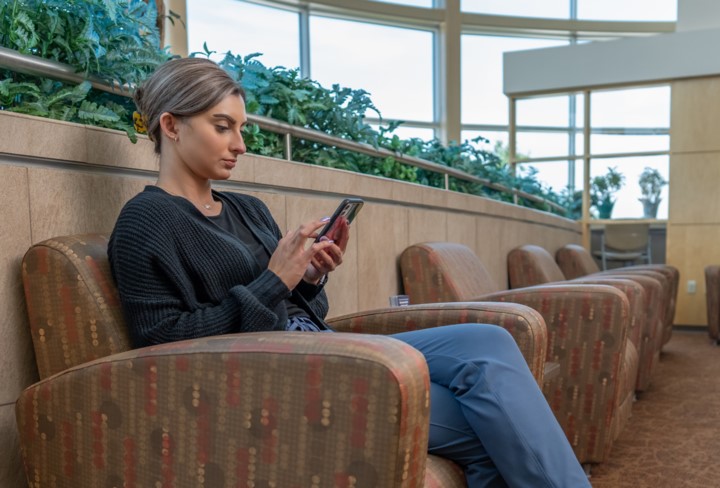 Our Foundation
You make the difference for so many. We have the good fortune of meeting many of the patients that are so positively affected by the generous commitment of people in this community and the commitment of care they have received at St. Francis Hospital. 

We are truly blessed to have so many caring people who believe in and support our mission. We invite you to read more about the heritage of our hospital as well as the many patients and programs we help to support. We also invite you to join us in our mission to promote the health and well-being of the people in the communities we serve.
Programs
At St. Francis Hospital we find it a privilege to support the health of our mountain community. We offer birth classes, community events, volunteer opportunities and give back through other community benefit programs. These resources and opportunities are all part of our mission to extend the healing ministry of Christ by caring for those who are ill and by nurturing the health of the people in our communities. 
Corporate Wellness Program
Corporate Wellness Program
St. Francis Hospital offers the most comprehensive package of corporate wellness services available throughout Colorado designed to help employers keep employees healthy and productive. Our unparalleled years of experience and expertise in providing quality corporate resources support your employees in every facet of their work and personal environment. These complementary services will empower the employee to always be "at their best" while allowing your budget to breathe.
Employer Wellness Services
Your entire company can enjoy the highest-quality corporate wellness programs and create a healthy environment to help your employees succeed. We offer health solutions that span across the entire company, and integrate wellness into your organization's culture.
Wellness Planning
On-Site Biometric Screenings
Evidence-Based Group Health Management Programs
Individual Wellness Coaching
Exercise Classes - See schedule.
On-Site Wellness Events 
Wellness Challenges
Customized Reporting
Flu Shots
Aquatic Program
Medically-Supervised Weight Loss Program
Disease Management Programs
Fitness Assessments
Nutritional Counseling
Birth Center Classes
Employee Assistance Program
Behavioral Health Counseling
Substance Abuse Assessment, Treatment and Counseling
Occupational Medicine
Our experienced and dedicated administration team partners with you to design and implement our services.  This includes a program coordinator and an account manager. 
Customer Service/Registration
Billing
Accounts Receivable
Reporting
Compliance/Quality Assurance
Incentive Management Customizable Communications
Profile Employee Assistance Program
Profile Employee Assistance Program
Profile Employee Assistance Program is a full-service employee assistance program headquartered in Colorado Springs, Colorado. It began in 1982 by Penrose-St. Francis Health Services and is now backed by the facilities and resources of the Centura Health System. Profile EAP is an employer-sponsored benefit for both the employee and the employer.  We provide confidential assessment, short-term counseling, referral and follow-up services for employees and their immediate family members.  Our goal is to help your company reduce absenteeism, on-the-job accidents and substance abuse, and to decrease escalating health care costs.  Studies have shown that a well-managed EAP reduces absenteeism by 66 percent, health care costs by 86 percent, and worker's compensation claims by 30 percent.
Community Engagement Request
Community Engagement Request
Centura Health hospitals receive many requests each year asking us to engage in community events and programs. Supporting the communities we serve in this way is a reflection of our mission: to extend the healing ministry of Christ by caring for those who are ill and by nurturing the health of the people in our communities.
Before submitting a request, please consider the following:
Sponsorships and events should align with our mission, vision and values. All sponsorships and events should relate to community health improvement or prevention and one of the hospital's Community Health Needs Assessment priorities.
Please make your request at least 60 days prior to your event or sponsorship deadline.
Completion of this form does not guarantee a donation or sponsorship.
We are only able to support non-profit organizations.
Completed requests will be considered by an internal committee. We will contact you within 30 days regarding the status of your request.