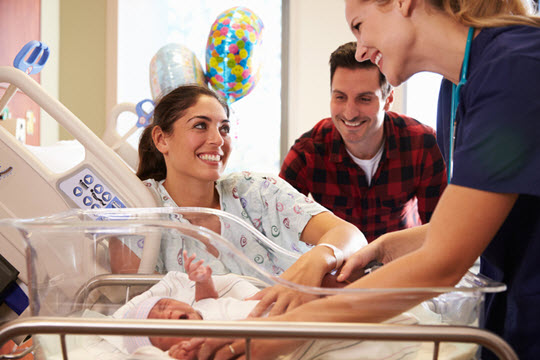 Welcome them to the world in a family-friendly environment
Look no further than the Birth Center at St. Francis Medical Center for a family-friendly and comfortable environment during this most joyous occasion. All of your needs-before, during and after the birth, will be handled with the highest level of care. You can count on us to be there through it all. 
Advanced Care & Providers

Preadmission birth program allowing moms-to-be the option to be fully preadmitted before they go into labor, minimizing the interruption of their childbirth process
World-class obstetricians and a certified nurse midwife
Maternal Fetal Medicine Specialists to meet the needs of high-risk pregnancy moms-to-be
First trimester screening including fetal echocardiograms and neurosonograms
Neonatal/maternal transport vehicle to respond to the needs of high-risk pregnancy moms-to-be and infants throughout southern Colorado
Specialized OB Emergency Department Assessment Center (Please note that ER co-pays may apply.) – Located in our Birth Center, the OB Emergency Department Assessment Center is staffed by obstetric providers to provide the expertise you need, whenever you need it. Each OB patient is seen by a knowledgeable, qualified medical professional and patients are provided detailed follow-up instructions to ensure a continuum of care if necessary. Immediate care is provided for acute OB conditions, including:

Pelvic pain
Abnormal vaginal bleeding
Antenatal conditions
Pain/bleeding in 2nd & 3rd trimester
Pre-term labor
Birth Center Suites and Amenities

Six spacious antepartum rooms with views of the Front Range
Seven triage rooms for patients at 20-weeks gestation or more
Twelve family-friendly labor/delivery rooms
A dedicated spa room for use in labor
Two dedicated C-section operating suites with three bays for post-anesthesia recovery
Thirty-four spacious post-partum mom/baby suites with jacuzzi tubs or showers
Daybeds in each room for the comfort of Dad or a significant other
Comfortable, spacious family waiting areas with free wireless Internet access
"Hugs & Kisses" security system providing electronic mom/baby verification matching with comprehensive infant security
Designated "Quiet Time" to give new moms and baby time to bond and rest
Support and Resources

Classes to help moms, dads and family members prepare for birth, baby and beyond
International Board Certified Lactation Consultants to assist you with breastfeeding
The Lactation Center Boutique offering services and items to support nursing mothers
Newborn Hope Resource Room
Level III Neonatal Intensive Care Unit (NICU) should your baby need specialized care
Baby-Friendly USA
Baby-Friendly USA, Inc. has declared that The Birth Center at St. Francis Medical Center has been designated as a Baby-Friendly Hospital for 2017 – 2022, the only hospital in Colorado Springs with this designation. The Baby-Friendly Hospital Initiative (BFHI) is part of a global program sponsored by the World Health Organization (WHO) and the United Nations Children's Fund (UNICEF). In order to become Baby-Friendly, a hospital must implement the "Ten Steps" and follow the "WHO code." Baby-Friendly USA is the accrediting organization and St. Francis Medical Center underwent a two-day site visit to confirm that the required practice changes are now standard of care for The Birth Center.