Emergency Room
If you have a medical or life-threatening
or limb-threatening emergency dial 911 immediately.
St. Anthony North Health Campus Earns Healthgrades Top 15% of U.S. Hospitals for Outstanding Patient Experience
"For 50 years, our incredible caregivers at St. Anthony North have served our communities with compassionate, high-quality, whole person care," said Dr. Constance Schmidt, Chief Executive Officer. "These latest achievements speak to what our patients and providers have known for decades: We place patient experience and safety at the forefront of our mission every day."
Read More
Providing the expertise you need to manage your health and wellness
Our leading-edge teams deliver remarkable care, high-quality outcomes and unparalleled patient satisfaction among a wide variety of medical specialties, services and programs to help you get well and stay well. View all medical services.
Our patients are amazing people with amazing stories to share. 
PIVO Needle-Free Blood Drive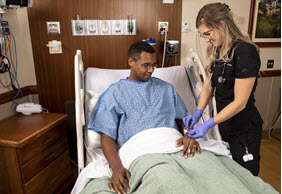 Centura Health offers needle-free blood draws for inpatients using needle-free blood draw technology. This innovative technology in the hands of our expert caregivers has eliminated over 400,000 needlesticks for patients and reduced the risk of accidental needlesticks for our healthcare providers.