24/7 Emergency Care - Close to home, where you need it
Our 24/7 Emergency Department – featuring physicians who are board-certified in Emergency Medicine and nurses who specialize in emergency care – receives more than 18,000 annual visits, treating approximately 50 patients each day. We partner with Flight For Life® Colorado to stabilize and transfer our most critical patients (only one percent of all patients we see each year). Approximately 95 percent of patients are cared for and return home to their families.
Urgent Care - The right care, at the right place, at the right time
Our urgent care clinic is fast, safe, convenient and more economical when emergency care is not needed. There have been more than 10,800 visits from patients with urgent health conditions and injuries at our urgent care clinic this year.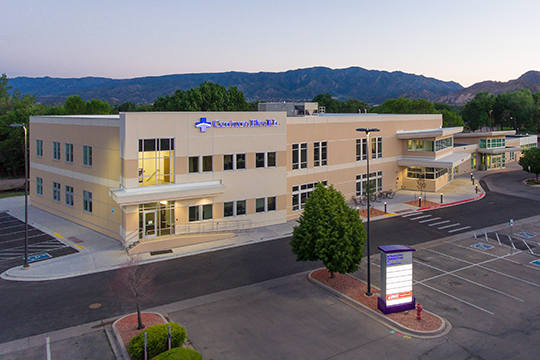 Increasing Access to Health Care - New medical office building
The St. Thomas More Physician Group provided more than 48,000 patient visits at the new, convenient Medical Office Building which has improved patient experience and increased access to many health care services, including: Primary Care; OB/GYN; Pediatrics; Orthopedics; General Surgery; and, Lab. 
 
New Technology Improves Patient Care - We are on the cutting-edge
Updated OR endoscopy lab with improved image quality and patient care.
Innovative bone densitometry equipment measures bone mass to help patients forsee any medical concerns in their future.
New coagulation instrument decreases wait time for patient lab results.
Dedication to Quality Health Care - Your safety is our top priority
When it comes to patient safety, St. Thomas More Hospital ranks at the top. We received an 'A' for patient safety in Fall of 2018 from The Leapfrog Group. As a rural medical facility and the leading health care provider in Fremont County, your health and safety is our top priority.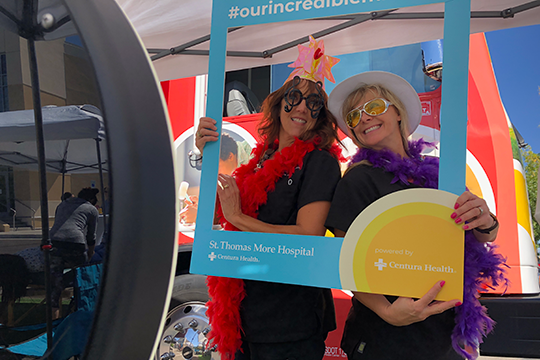 Community Impact - Our mission at work
More than 500 caregivers and 145 physicians provide patient care. Here's a look at the care we provided in our community, close to home and loved ones:
5,670 patient stays
1,743 surgeries
26,353 outpatient visits (excluding ER)
Approximately $6 million in benefit to the community
Approximately $147 million of economic drive into the community
* All statistics reflect July 1, 2017 through June 30, 2018.
Our History

The Rule of Benedict directs: "Let care be given the sick, that they may be served as Christ."

This was the call the Benedictine Sisters of Yankton, South Dakota heeded when they came Cañon City, Colorado more than 60 years ago. The Sisters responded to a plea from Abbot Leonard Schwinn of Holy Cross Abbey in 1938. Abbot Schwinn was searching for nuns to take over the Fremont County Doctors' Hospital founded in Cañon City in 1917 and located at 432 Greenwood. This began a mission of healing and ministry that would continue until 1994.

A total of six Sisters had arrived by November of 1938. Working all day, seven days a week,  these women dedicated their lives to the health and well being of the citizens of Fremont County. Sister Maurita, quoted in the Pueblo Chieftain in May 1988 said, "There were no days off. We had no such things in those days. There wasn't much time for anything but work."

And work they did. Together they laid the groundwork for the future of nonprofit religious-based health care in Fremont County.

They first purchased a larger building to house the hospital (the former Y.M.C.A. building at 431 Macon Avenue) and extensively remodeled it.

It was named Thomas More Hospital in honor of the English martyr who lived according to the teachings of his faith.

In 1942, it was renamed Saint Thomas More Hospital.

In 1968, with the donation of 10 acres of land and the fund-raising efforts of the community, our current hospital was built at 1338 Phay Avenue. The move allowed St. Thomas More to diversify into such areas as home health care, long term health care and rehabilitation services, services not usually available in rural hospitals at that time.

Like its predecessors, our current facility has been remodeled several times in the last thirty years to better serve the needs of our patients. Extensive remodeling in 1996 occurred in the ER and outpatient surgery areas and provided for a new main lobby. In the summer and fall of 2000, a new, "updated" look was given to the patient rooms and nursing station in the medical/surgical wing.

In 1994, the Benedictine Sisters turned the reins of St. Thomas More Hospital over to the Sisters of Charity of Cincinnati, Ohio, while still maintaining great interest in the hospital's success. Two years later, the Sisters of Charity Health Services of Colorado and PorterCare Adventist Health System formed a new, nonprofit, statewide-integrated health care delivery system known as Centura Health. St. Thomas More Hospital is now an affiliate of Centura Health.

In 2005, St. Thomas More Hospital underwent an exciting expansion to meet the growing needs of the communities we serve.  The project included new, private patient rooms, expanded radiology and Emergency Room departments, a new surgery suite, lab and Intensive Care Unit, and an innovative Health & Fitness Center featuring a warm water therapy pool.

Today, the Benedictine heritage lives on as we strive to carry on their mission and good works.
Fact Sheet

The cornerstone of health care services in Fremont County.

Through health care services and community outreach, we are proud to have extended the healing ministry of Christ to the sick and injured in Fremont County for more than 80 years, a legacy we continue today. Caring for our community is a responsibility we take very seriously. The people who work in our hospital, rehabilitation center, urgent care and physician group clinics are what makes us special.

They are our family, friends, neighbors who lend their expertise, hearts and talents to providing compassionate care when you need us most. 

Distinctive Services

Nestled in the foothills of the Sangre de Cristo Mountains in Cañon City, St. Thomas More Hospital's rich history of providing comfort and healing began in 1938 when a half- dozen Benedictine nuns opened its doors. Today, the hospital plays a pivotal role in this rural community by providing emergency services, rehabilitation, joint replacement, surgical services, critical care, digital mammography and a birthing center to Fremont County residents, neighboring communities and the many visitors who flock to the area.

Cardiac Rehabilitation

St. Thomas More Hospital's cardiovascular rehabilitation program has earned certification by the American Association of Cardiovascular and Pulmonary Rehabilitation (AACVPR). The program was recognized for its commitment to improving quality of life by enhancing standards of care. The AACVPR Program Certification is the only peer-review accreditation process designed to review individual programs for adherence to standards and guidelines developed and published by AACVPR and other professional societies.

Patient & Community Resources

St. Thomas More Hospital offers community outreach, education and health screenings. Also offered is the Forensic Nurse Examiner (FNE) program, Chronic Disease Self- Management program and the Care Transitions hospital-to-home program. Support groups found at the hospital include classes for diabetes, tobacco cessation, weight loss and sleep health. Wellness classes are also offered, along with a membership to the hospital's fitness center.

St. Thomas More Hospital | By the Numbers
Active Medical Staff
167
2018 Admissions
5,670
2018 ED Visits
18,290
Caregivers
522
Beds
25 Licensed Beds
2018 Uncompensated / Charity Care
$6.3 million

*Data reflects July 1, 2017 through June 30, 2018