At Centura, our specialists provide advanced vascular surgery and the best treatments for thrombosis, aneurysms, varicose veins and more.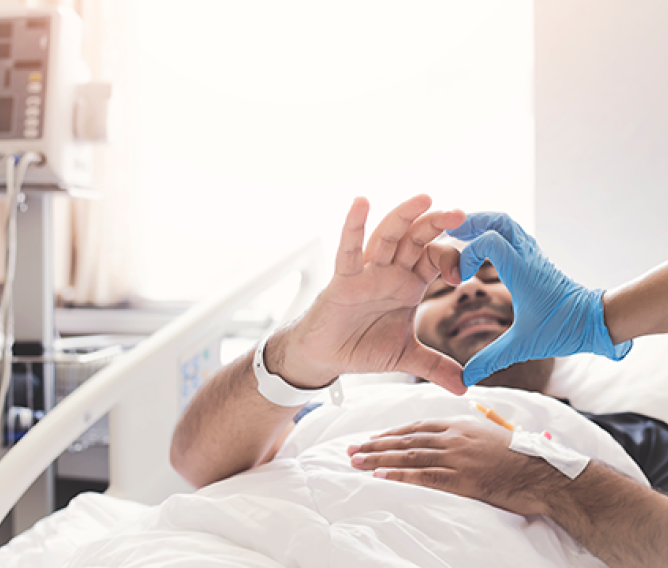 Find a vascular surgeon near you
Our surgeons take a hybrid approach to surgery, combining traditional heart surgery with catheterization, and endovascular surgery, which uses catheters to insert expanding grafts to treat aneurysms and other vascular issues.
A ballooning or widening of an artery due to weakened artery walls.
A semi-solid clump of blood vessels that can cause serious circulatory problems.
Plaque build-up within arteries that inhibit blood flow.
A blood clot in veins deep inside the body.
A narrowing or blocking of peripheral arteries in your legs, stomach, arms and head.
When blood vessels outside of your heart or brain become narrowed, blocked or prone to spasms.
Veins that have become enlarged and twisted, inhibiting blood flow. 
Vascular Procedures
Vascular surgery is a specialized field focusing on the body's vascular system, or your veins and arteries. Vascular disease can be managed through surgical reconstruction, medication and minimally-invasive catheter procedures.
An aneurysm is a swelling or ballooning of an artery due to weakness in the artery wall. It is life threatening if the artery were to burst.

In traditional aneurysm surgery, our skilled heart and vascular surgery team will open the chest cavity, remove the aneurysm and replace the damaged section of the artery with a fabric of plastic graft.

Many people are eligible for minimally invasive aneurysm repair instead. In this procedure, our specialists will implant a stent to graft into the body through the artery, guide the stent and graft to the aneurysm and attach a graft that the aneurysm will shrink around.
A carotid endarterectomy is a procedure in which our specialists will make a small incision in the neck and remove plaque buildup from the carotid artery to restore blood flow.
Another commonly used treatment is carotid angioplasty and stenting. This procedure involves inserting a small balloon and using it to push plaque buildup against the wall of the artery. A small metal tube (stent) is then inserted into the artery.
In this procedure, our specialists surgically create a new vein to remove and return blood to a dialyzer. We also remove clots and do maintenance on these accesses when they develop problems.
This is an umbrella-shaped device designed to catch life-threatening clots from traveling to the lungs and causing pulmonary emboli. It is used when a person cannot safely take blood thinners, has to stop taking their medication, or their clots are not responding to medication. Some of these devices are removable.
Many people have blockages or narrowing of the arteries that supply blood to their legs. The specialists at Centura Health perform a variety of procedures to treat these blockages.  

In some cases, we can repair the artery from inside the blood vessel, or by using "endovascular" techniques similar to heart catheterization. Other times, open surgery is needed to bypass or reroute around the blockage using an artificial artery or a vein taken from somewhere else in the body.
Our doctors start with an ultrasound evaluation to look for venous reflux, or veins that allow the blood to flow backwards. They then perform various procedures to repair and improve the appearance of varicose veins, including endovenous laser ablation, radiofrequency ablation, phlebectomies and sclerotherapy.
Peripheral artery aneurysms
Complex abdominal aortic aneurysms
Thoracic aortic aneurysms
Thoracoabdominal aortic aneuryms
Acute aortic syndromes including rupture abdominal aortic aneurysms
Intramural hematomas
Aortic dissection
Open and endovascular surgical reconstruction – for mesenteric ischemia and renal artery stenosis
Endovenous ablation therapy
Subfascial endoscopic perforator surgery
Sclerotherapy surgery