Centura - Bob Wilson Memorial Hospital
Location
415 N Main St
Ulysses
,
KS
67880
Centura Bob Wilson Memorial Hospital is a 26-bed facility that has been serving Ulysses and surrounding communities since 1951 with a comprehensive range of inpatient and outpatient services. For more than 60 years, Centura Bob Wilson Memorial Hospital has provided access to healthcare close to home for the families of Ulysses, KS and surrounding communities.
About Our Hospital
About Our Hospital
Centura Bob Wilson Memorial Hospital by the numbers
2022 Admissions – 229
2022 ED Visits – 2,445
Caregivers – 70
2022 Clinic Visits – 17,569
FY22 Uncompensated/Charity care – $21.2 million
Distinctive services
We believe every healthcare journey begins with a dedication to healing the body, mind, and spirit. Our faith-based mission and approach to holistic health are essential to a person's overall wellness. Chaplains are healthcare professionals who bring all the resources of spiritual and pastoral care to help our patients, their families, and friends better cope with the challenges of a hospital visit and provide spiritual guidance through prayer, ritual, sacrament or help our patients connect to their religious communities.
For patients wanting a full-time labor and delivery coach, less traditional birthing method, specific medical advice, or just the comfort of knowing an informed medical professional is at their side throughout the process, a midwife is an excellent option.
Ulysses Family Physicians is a family medicine clinic that provides complete care. Our providers perform a variety of exams, including well-child exams, school physicals, annual physicals, flight physicals, DOT physicals, sickness exams, occupational physicals, immigration physicals, sports medicine services, concussion management, hearing screenings, and breath-alcohol testing. They also perform office procedures, such as laceration repair, wart and/or lesion destruction, toenail removals, joint injections, breathing treatments, and obstetrical care.
The 24-hour Emergency Department and a Convenient Care Clinic are additional access to care points.
Leaders
Leaders
Bob Wilson Memorial Hospital Leadership
Twilla Lee serves as the CEO for Centura St. Catherine Hospital – Garden City, Centura St. Catherine Hospital – Dodge City, and Centura Bob Wilson Memorial hospitals.  She joined Centura's 101-year legacy of serving the vibrant communities of western Kansas in 2022.
On a mission to help people – one person at a time, Twilla previously served as CEO for Lutheran Downtown Hospital in Fort Wayne, Indiana, where she oversaw the construction of a 60-bed, acute care facility. Her work included developing and implementing a strategic plan for opening the hospital, including physician recruitment, staffing and operations.
Twilla has more than 30 years of experience in the health care industry and has a reputation for building high-performing teams, building operational efficiency and developing positive relationships with the local community and leaders.
She earned both her Bachelor of Arts and Master of Business Administration from Otterbein University.
On a mission to serve with love and integrity while caring for our communities' needs, Shawna previously served as the director of Finance and Health Information Management for St. Catherine and Bob Wilson Hospitals.
Shawna joined Centura Health in 2007 as a Senior Accountant and has progressively increased into leadership roles. She will continue to provide leadership and oversite of the hospitals' daily financial performance and stewardship, including capital and operational budget processes.
She has a Bachelor's degree in Accounting and Management from Bethany College and a Master's degree in Healthcare Administration from Wichita State University.
Shawna is married and has two children. Her family enjoys spending time together outdoors, especially at the lake and in the mountains.
Anita Toussi, MD, PHD, MBA, FACEP, CPE, serves as the Chief Medical Officer Centura Bob Wilson Memorial Hospital. On a mission to provide increased access to excellent, patient-centric care that is compassionate, affordable, and equitable, Dr. Toussi has served as a physician leader for the past 22 years.
Throughout her tenure, Dr. Toussi built a reputation for consistent success in every aspect of patient experience, physician recruitment, retention and alignment. Most recently, she served as the Chief Medical Officer for Horizon Health in Paris, IL, where she built multiple service lines from the ground up and led her teams through the pandemic. Throughout her career, Dr. Toussi has transformed systems, processes and overall morale by encouraging her team to perform at the height of their strengths.
Dr. Toussi earned both her PhD and M.D. in medicine from the University of Geneva in Geneva, Switzerland. Along with her medical degrees, Dr. Toussi also earned two Master of Arts degrees from the University of Geneva and a Master of Business Administration degree from Auburn University.
Candy Canga Picar, BSN, MBA, DNP, serves as Chief Nursing Officer (CNO) for Centura St. Catherine Hospital – Garden City, Centura St. Catherine Hospital – Dodge City and Centura Bob Wilson Memorial Hospital.
Candy, who is on a mission to advance diversity, equity, inclusion and acceptance by creating space where each person has a voice at the table, joined Centura from St. Charles Madras Hospital in Madras, Ore., where she served as the CNO and built a culture of excellence by empowering frontline nurses utilizing the Pathway to Excellence standards.
Candy, who was born and raised in Cebu, Philippines, has a true passion for understanding how the complexities of social determinants impact a person's care and overall health. She immigrated to the US in 1991. Since then, Candy has worked as a staff nurse in various healthcare settings all the way up to an executive role.
Some of Candy's greatest successes in health equity include expanding care for the Native American Indian population in Madras by creating the first Patient Family Advisory Council, facilitating staff training and developing culturally competent practices.
Candy has her Doctor of Nursing Practice from Capella University, a Master of Business Administration from the University of Phoenix and her Bachelor or of Science in Nursing from Velez College in Cebu, Philippines.
During her personal time, Candy enjoys being a wife, a mother, a pet lover, and an active member of the church community.
Sammie Ramos is the Director of Human Resources for Centura St. Catherine Hospital in Garden City and Centura Bob Wilson Memorial Hospital in Ulysses, KS. She joined Centura Health in 2016 as a talent acquisition consultant and Human Resources generalist, excelling in her roles and displaying outstanding leadership.
Sammie has proven to be an effective leader and communicator in her roles as a recruiter and human resources generalist, excelling in recruiting and onboarding new talent for the organization, designing and implementing retention strategies, and providing guidance in conflict resolution, employment law, hiring practices, and change management.
Prior to joining Centura Health, Sammie was a consulting analyst for Cerner in Kansas City, MO., as well as a clinical research coordinator for Heartland Research Associates, LLC, in Wichita.
Sammie grew up in Derby and attended Wichita State University on a softball scholarship, graduating with a bachelor's degree in Exercise Science.
Sammie is excited and humbled to have the opportunity to serve Centura Kansas as Director of Human Resources, thankful to be part of an amazing organization and serving our communities in southwest Kansas.
Stephanie Waggoner is the Kansas Administrator for Centura Health Physician Group and has been part of the leadership team since 2014.
Stephanie is strongly motivated by a desire to lead a culture change within healthcare and create a more home-like environment focused on resident-centered care.
Before joining Centura, Stephanie served as CEO for United Methodist Medical American Ministries, offering medical and social services through care centers and clinics in six communities in southwest Kansas.
Stephanie attended Kansas State University, where she earned a bachelor's degree in Psychology and a master's degree in Lifespan Human Development, with an emphasis in Gerontology. She was a Sunflower Advocacy Fellow in 2010 and served as a board member for the Kansas Association of the Underservice from 2008-2013.
Stephanie is married and has two daughters, and they all enjoy spending time together as a family, as well as their horses.
Volunteer
Volunteer
Volunteers are a vital part of Centura Bob Wilson Memorial Hospital. These men and women touch the lives of so many people through their talents and compassionate service.
Information Desk
The information desk volunteers greet, welcome, and assist visitors.
Gift Shop
This volunteer serves as a salesperson in the hospital's beautiful gift shop. 
Ladies Auxiliary
The Auxiliary is comprised of a group of dedicated volunteers that provide services to the hospital. They operate the gift shop, serve as Pink Ladies, as muffin or cookie makers, workers at many events, and raise money to purchase much-needed equipment. Recently, the group purchased a digital mammography machine for the hospital. They also provide scholarships for Grant County students entering or continuing in a medical field.
They have the kind of happy (and rare) rapport that many groups envy. That's due to each and every one of the members being kind, respectful, and willing to pitch in and work whenever needed. 
Over the years, this once small group has grown to an outstanding 25 members. This type of Auxiliary makes things happen, works to keep things happening, and is appreciated for what they do. 
Each year, the hospital Auxiliary awards $750 scholarships to students pursuing careers in a health-related field of study and who have a connection to Grant County or the community of Ulysses.
Complete the Auxiliary application or pick up the application at the Hospital Gift Shop. The deadline is April 15th each year.
15,569
2022 Clinic visits
$21.2 million
FY22 Charity/Uncompensated care
At Centura Bob Wilson Memorial Hospital, we offer a wide range of services to best meet the needs of our community. When you or a family member face an illness or injury, rest assured our team will be here for you every step of the way.
Services include Case management, CT Scan, Diabetic Education, Dietary Consult, EEG/EKG, Emergency Care, Laboratory, Magnetic Resonance Imaging, Mammography, Nuclear Medicine, Obstetrics (prenatal, postpartum, delivery), Midwifery, Primary, and Specialty Clinic, Physical Therapy, Radiology, Respiratory Therapy, Surgery, Swing Beds and Ultrasound.
Providing you the time and attention to transition home safely
There are times when you don't need a hospital, yet you are not quite ready to be home again. For those times, we are here with our unique Swing Bed Rehabilitation Program. With around-the-clock nursing care and a customized whole-person care plan, we help you heal after surgery, severe illness, or accident so that you can return home with confidence.
Visitor Information
You can count on us to be there for you. We understand that times of illness and injury affect not only our patients, but also their loved ones. The information below will help you before, during, and after you come to our hospital. Our goal is to provide the level of patient experience that enhances your peace of mind and earns your full confidence.
Visitor information
Visitor information
Please read Centura Health's current COVID-19 visitor restrictions. Contact the hospital directly for additional individual visitor policies that may apply.
All visitors of patients at our hospital enjoy equal visitation privileges consistent with patient preferences and subject to the facility's clinical restrictions. Visitor policy may be subject to change. Please adhere to any adjustments to permitted visitors, as posted in our facility.
Visitors under the age of 12 must be escorted by a responsible adult.
At 9 pm Monday through Sunday, the main lobby entrance will be locked. After 9 pm, enter the hospital through the emergency department walk-in entrance.
Visitors remaining after 9 pm are asked to go to the security desk in the emergency department to get a special visitor's badge.
There may be times when visitors are asked to leave to better meet the needs of our patients.
Patients and visitors may park in the parking lot in front of the main entrance and adjacent lots around the hospital, Free parking is available 24 hours a day.
Cafeteria
Location: on the first floor by the emergency department
Monday - Friday: Breakfast: 7:30 am - 9 am, Lunch: 11:30 am - 1:15 pm
Weekend hours:  Lunch times vary.  Please check with your nurse for availability. 
Letters and packages are delivered to patients Monday - Friday. If you have letters to be mailed, you may give them to your nurse. Flowers addressed to you will be delivered to your room unless you are in the intensive care unit. Only Mylar® balloons are permitted in the hospital. Latex balloons can cause allergic responses and interfere with hospital safety systems.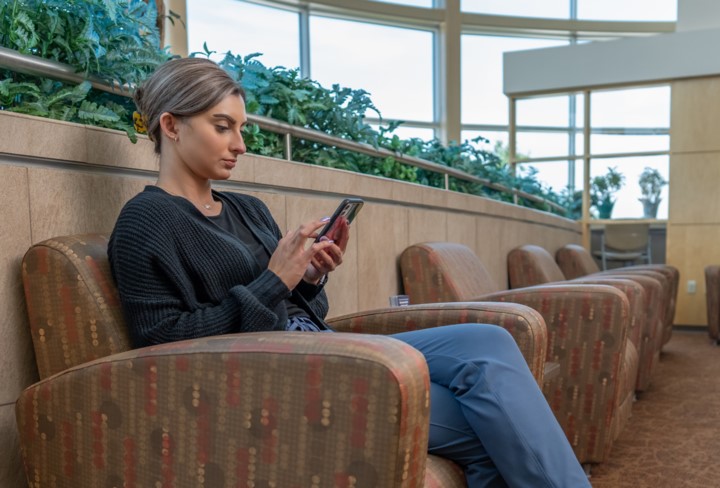 Programs
At Bob Wilson Hospital, it's a privilege to support the health of our community. We offer a variety of classes, community events, and volunteer opportunities. These resources and opportunities are all part of our mission to meet the health care needs of the people we serve.  
Community Engagement Request
Community Engagement Request
Updated 11/1/23
As we fully integrate with CommonSpirit Health, we are pausing community engagement commitments until June 1, 2024. However, you are welcome to submit an application using the guidelines below. We will notify you directly if your organization is selected for funding. We appreciate your patience and look forward to working with you in the future.
How to submit an engagement request
CommonSpirit hospitals receive many requests each year asking us to engage in community events and programs. Supporting the communities in this way is a reflection of our mission to improve the health of the people we serve, especially those who are vulnerable, while we advance social justice for all.

Before submitting a request, please consider the following:
Sponsorships and events should align with our mission and values; community health improvement or prevention; and one of the hospital's Community Health Needs Assessment priorities.
Please make your request at least 60 days prior to your event or sponsorship deadline.
Completion of this form does not guarantee a donation or sponsorship.
We are only able to support non-profit organizations.
Completed requests will be considered by an internal committee. We will contact you regarding the status of your request when we reopen community engagement giving June 1, 2024.