Mercy Regional Medical Center is providing weekly updates on COVID-19 infections and vaccination rates for the Four Corners Region so that our friends, neighbors and family can protect one another from the coronavirus pandemic.
Total number of vaccines given: 10,678
Updated weekly
Centura Lab Results from 07/22-07/28
1.1
Average daily census of Covid-19 inpatients
2
New positives from clinic visits
2
New positives from ED visit and discharged home
0
New positives from pre-procedural tests
3
New positives admitted for care
3
New positives admitted to ICU
Clinician's Corner
Mercy Recognized for Outstanding Patient Experience
July 21st, 2021
The dedication of our caregivers was recently recognized by the receipt of the Healthgrades Outstanding Patient Experience Award™ an award Mercy has received 13 years in a row (2009-2021).
Health Care Heroes
Mercy's New Surgical System Expands Minimally Invasive Surgical Options in Four Corners
Surgeons at Mercy are now able to offer the next level of robotic-assisted operations to patients in search of expert surgical care.
Providing the expertise you need to manage your health and wellness.
Mercy Regional Medical Center is an 82-bed, acute-care hospital in Durango, Colorado. Mercy was founded in 1882 but has grown to become Southwest Colorado's largest and most technologically advanced medical facility. It is the only hospital in the region to receive from Medicare a five-star rating for overall hospital quality. Mercy's areas of specialty include orthopedic and spine surgery, cardiology, emergency and trauma care, cancer care, and more.
Our leading-edge teams deliver remarkable care, high-quality outcomes and unparalleled patient satisfaction among a wide variety of medical specialties, services and programs to help you get well and stay well. View all medical services.
Across Centura Health, our hospitals, Emergency Departments, Urgent Care centers and clinics are prepared to care for you upon your arrival. We adhere to best-practice clinical care protocols and safety measures, and our hospitals and clinics are staffed and ready to provide you with immediate care. Please do not delay seeking important or life-saving care because of the coronavirus.
PIVO Needle-Free Blood Draw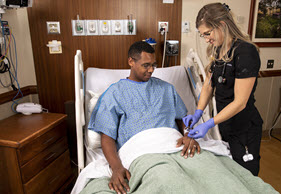 Centura Health offers needle-free blood draws for inpatients using needle-free blood draw technology. This innovative technology in the hands of our expert caregivers has eliminated over 400,000 needlesticks for patients and reduced the risk of accidental needlesticks for our healthcare providers.