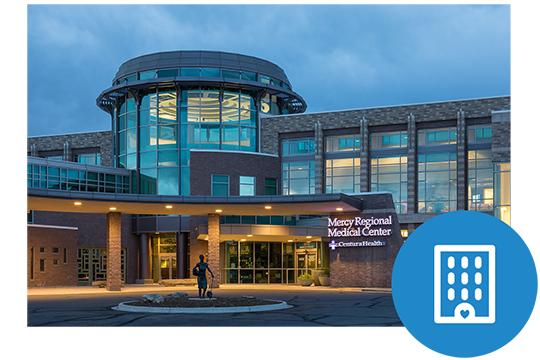 Mercy Regional Medical Center opened in the Grandview area of Durango in June 2006.
The facility includes state-of-the-art medical technology including 64-slice computed tomography (CT) scanner and breast MRI in an environment designed to promote a sense of wellness and healing. Our healing environment includes a healing garden, labyrinth, chapel, artwork, nutritious meals prepped by an executive chef, and a TLC program. The Touch, Love, and Compassion (TLC) program includes complementary therapies for patients (fee for service), such as:
Gentle massage
Aromatherapy
Pet therapy
Music therapy
Outpatient acupuncture
Distinctive Services
Mercy Regional Medical Center continues a legacy of care and healing and playing a pivotal role in the mountainous community of Durango, CO. The hospital offers a wide-range of care options including emergency services, Flight For Life® Colorado, orthopedic services, surgical services, heart & vascular services and a birthing center to residents, neighboring communities and the many visitors with the four corners region.
Patient & Community Resources
Mercy Regional Medical Center offers community outreach, training and education courses, wellness classes, birthing classes, health screenings and support groups to best support your care needs. Everyone's journey is different, see what Mercy Regional Medical Center can do for you.
Mercy Regional Medical Center Careers
Discover what makes Mercy Regional Medical Center and the Durango, Colorado community unique from the people who work and live here.
Mercy Regional Medical Center | By the Numbers
Square Footage
212,000
Attached Medical Office Building (not owned by Mercy)
153,000
Total Rooms (Capacity)
82
Board Certified Physicians
135
Medical Specialities & Sub-Specialties
35
Full-Time & Part-Time Employees
800
Our History

A Brief History of Mercy Regional Medical Center 

The first hospital in the Four Corners region was Mercy Hospital of the San Juans, started by the Sisters of Mercy in 1882. Although it had only six-beds and was attached to a boarding school, the small hospital opened to great fanfare on September 1. It was located along the Animas River in what was then an open field north of old downtown Durango.

In 1884, a new building, often referred to as the "stone hospital" because of its native sandstone construction, was finished and the hospital's name was changed to Mercy Hospital. Major additions took place in 1892, 1931, and 1952, and over the following 50 years, the building, located at 375 East Park Avenue, went through various additions and remodels, while older sections of the facility were demolished to make room for the new.

By the late 1990s Mercy Medical Center was operating at capacity, but unable to expand because downtown Durango had literally grown up around it. Plans were drawn for a brand new facility, to be built in the newly annexed Grandview area of Durango.

In June of 2006, Mercy Regional Medical Center opened. The 212,000-square-foot facility is state-of-the-art, with the latest medical technologies, an attached 153,000-square-foot medical office building, ambulatory surgical center, and plenty of room to expand in the future.

The old Mercy Medical Center building was demolished in 2006 and the land was donated to the city of Durango. The new Durango Library now occupies the former hospital site.

A Brief History of the Sisters of Mercy 

Catherine McAuley was born in Dublin, Ireland, in September, 1778, to a prosperous Catholic family. Her father, James McGauley, died in 1783 when Catherine was just five years old, but his compassion for the poor--especially children and families who lived nearby--was a lifelong example for his eldest daughter.

When her mother Elinor died in 1798, Catherine chose to live in the home of relatives, some of whom were non-Catholic and had little tolerance for her pious practices. In 1803 Catherine was invited to live in the home of William and Catherine Callaghan as a companion to Mrs. Callaghan. The Callaghans were childless and upon Mr. Callaghan's death in 1822, Catherine inherited their fortune of £25,000 (the equivalent of about £1,048,000 or $1.6 million in today's currency), their estate, "furniture and plate."

In 1824, Catherine used her inheritance to lease property on Baggot Street, a fashionable neighborhood in Dublin, for the purpose of building a large house for religious, educational, and social services for women and children. Other women, intrigued by the house and the work for which it was intended, were attracted to Catherine and began to join her preparations for the ministry she planned.

On September 24, 1827, the Feast of our Lady of Mercy, the first residents came to live in the house they called "the House of Mercy" in honor of the day, and two years later, the chapel was dedicated. Between late 1829 and 1830, after prayerful deliberation and consultation, Catherine and her associates agreed to found a new religious congregation. Though this was not her original intention, Catherine began the founding of a new religious congregation of women dedicated to service to the poor.

Catherine and two of her associates entered the Convent of the Presentation Sisters in Dublin on Sept. 8, 1830, to begin formal preparation for founding the Sisters of Mercy. Fifteen months later, the trio pronounced vows of poverty, chastity, obedience, and to persevere until death in "the Congregation of the Sisters of Mercy." Thus, the new community was founded on Dec. 12, 1831.

Catherine lived only 10 years as a Sister of Mercy, but in that time, she established nine additional autonomous foundations in Ireland and England, and two branch houses near Dublin. When she died in 1841, there were 150 Sisters of Mercy. Shortly thereafter, small groups of sisters left Ireland at the invitation of bishops in Newfoundland, New Zealand, the United States, Argentina and Australia.

The first Sisters of Mercy arrived in the United States in 1843 at the invitation of the Bishop of Pittsburgh. Their energy in ministering to the sick and economically poor attracted many new members. By 1854, Sisters of Mercy had come from Ireland to settle in New York and San Francisco. They continued to spread throughout the country, establishing schools and hospitals where they went, including Durango.

Mother Mary Baptist Meyers and four other Sisters of Mercy arrived in the fast-growing mining town of Durango on April 29, 1882. They were recruited from St. Louis, Missouri, by Colorado's first bishop. Being a nursing and teaching order, within four months, the sisters were running two schools, a temporary orphanage, and a small hospital attached to one of the schools.

The Sisters' community involvement and membership grew over time with the establishment of the order's first Colorado motherhouse in Durango and their expansion into other Colorado communities. During her 18 years in Colorado, Mother Baptist sent Sisters of Mercy to Ouray, Cripple Creek, Manitou Springs, and Denver. She eventually moved the motherhouse to Denver, because funding opportunities were greater for the numerous charities and non-profits operated by the religious order. But Mother Baptist never abandoned Durango; she died on her final trip to the Durango convent.

Although the Sisters of Mercy are no longer involved in the hospital's operation, Mercy Regional Medical Center honors-and continues-the Sisters' legacy of care.
Nursing Services

The History of Nursing at Mercy

Five Sisters of Mercy from St. Louis arrived in Durango in 1882. The first night they arrived, they slept in the loft of a barn behind the Catholic church, but within weeks, they had opened two schools (one on each side of the Animas River because the bridge was unsafe) and a temporary orphanage, established their Motherhouse, and were visiting the area's ill and infirm. On September 1, 1882, these five remarkable women opened two ward rooms attached to a school and christened it Mercy Hospital of the San Juans.

The Sisters began their legacy of care in the two-room hospital, which slowly grew with the needs of the community and evolved along with the science of healthcare. In the first few years, all nursing care was provided by the Sisters, but as the years passed, they relied more and more on locally trained women. In 1910, the Mercy Hospitals in Denver and Durango co-sponsored a school of nursing. In those days, nurses managed every aspect of the hospital. The one thing that hasn't changed with time is that nurses are still at the patient's bedside every hour of the day.

Nursing at Mercy Today 

Today, Mercy nurses proudly continue the Sisters' legacy of care and make a difference in nearly every department of the hospital. Here, you will find them not only in the traditional patient care units, but also in our integrative care department, risk management, quality, case management, various clinics, the education and chart auditing departments, and elsewhere, applying their critical thinking skills to continuously improve our hospital.

We believe in patient care provided predominantly by an RN nursing staff. Because of this care delivery model, and our belief that more nurses at the bedside results in better patient care, Mercy Regional Medical Center has attained excellent quality outcomes, short lengths of stay, and outstanding patient satisfaction scores.

Mercy Regional Medical Center may be located in a rural area, but it is by no means simple. Our nurses have the opportunity to partner with internationally known members of our medical staff to deliver exceptional orthopedic and spine care, trauma care, intensive/critical care, women's health services, and cardiac care (including interventions), and more, all at the area's only comprehensive regional medical center.

Our Philosophy of Patient Care

In the spirit of shared decision-making, we each embody personal commitment,
Respect, integrity, accountability, and compassion
In all that we do, and with all we interact
We passionately believe a joyful heart is good medicine.

Our nurses are deeply compassionate professionals who care for their neighbors and friends. Our belief in shared decision making ensures that front-line nurses are actively involved in a variety of committees and task forces, guiding decisions that set the direction for care at the bedside.

We are proud of our nurses here at Mercy Regional Medical Center, and proud to work with them.

Personalized Care 

From a patient's perspective, being in a hospital is often a cause of anxiety. Who will care for me? Do they know what I need? Are there enough people to care for me?

At Mercy Regional Medical Center, a team of well educated professionals takes care of patients at the hospital 24 hours a day. Patient care teams are tailored to the patient's needs, depending on the severity and type of illness or injury a patient may have. We treat each patient as an individual, not a condition, and we do everything we can to accommodate their unique needs and make their stay as comfortable as possible. At every opportunity we strive to exceed our patients' expectations.