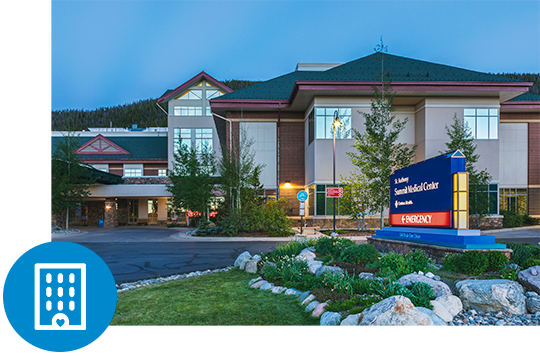 In 2018, St. Anthony Summit Medical Center was designated one of the nation's 100 Top Hospitals by IBM Watson Health, a prestigious honor based on an objective analysis of publicly available clinical, operational and patient- satisfaction metrics and data. St. Anthony Summit was one of just 20 small community hospitals – and the only one in Colorado – to receive the designation.
Distinctive Services
St. Anthony Summit Medical Center is been Summit County's primary health care resource and offers the region's highest level of emergency care. Its long legacy of care reflects its deep-seated commitment to building whole person care and flourishing communities.
Patient & Community Resources
St. Anthony Summit Medical Center's commitment to whole person care is reflected in the array of year-round programs and services it offers both inside and outside the walls of its facilities.
St. Anthony Summit Medical Center | By the Numbers
Active Medical Staff
357
Admissions
1,436
2018 ED Visits
16,179
Caregivers
237
Licensed Beds
35
2018 Uncompensated/Charity Care
$2.4 million