Centura - St. Catherine Hospital - Garden City
Location
401 E Spruce St
Garden City
,
KS
67846
Exceptional care and extraordinary people — it's what makes St. Catherine Hospital - Garden City different. Founded by the Dominican Sisters of Peace over 85 years ago, St. Catherine is the trusted leader of person-centered health, providing patients with whole person care; harmonizing mind, body, and spirit. Through the vision of the Dominican Sisters, generations of Kansans have been served and are an important and healthier part of the fabric of Garden City and its surrounding area. Our caregivers are fueled by a purpose, united in a shared mission, and powered to serve others. As we live out that mission each day, we are committed to creating healthier and safer communities. A spirit of innovation, a legacy of care.
About Our Hospital
About Our Hospital
Exceptional care and extraordinary people — it's what makes St. Catherine Hospital - Garden City different.
Our caregivers are fueled by a purpose, united in a shared mission, and powered to serve others. As we live out that mission each day, we are committed to creating healthier and safer communities with a spirit of innovation and a legacy of care.
Just like many families and businesses in our community, our roots run deep, with nearly 90 years of excellence. Today, our remarkable caregivers are living their mission to provide inspired, compassionate care to our neighbors because they know living is about more than just health.
St. Catherine Hospital - Garden City by the numbers
Deliveries: 676
2022 Admissions: 3,026
2022 ED Visits: 16,732
Caregivers: 518
Licensed Beds: 100
Surgical Suites: 8
ED Beds: 15
FY22 Uncompensated/Charity care: $21.2 million
The Breast Center at St. Catherine Hospital
National Accreditation Program for Breast Centers (NAPBC)
Primary Stroke Center
Stroke Gold Achievement Award
Heartland Cancer Center
Medical Oncology and Hematology accredited (QOPI) and Radiation Oncology accredited (ACR). A partnership with Central Care Cancer Center and St. Catherine Hospital
Siena Medical Clinic/Centura Health Physician Group
Largest collection of specialists in southwest Kansas, offering 11 specialty areas, access to outreach health and telemedicine, and featuring a full-service retail pharmacy
Plaza Medical Center
The region's largest primary care clinic
Inpatient Behavioral Health Unit
10-bed department provides excellent staff and services for short-term hospitalization
Radiology Services
ACR Accredited in CT, Mammography, Breast Ultrasound, 3D Mammography & MRI
Maternal Child Services
Designated a Blue Distinction Center + for patient safety and cost-effectiveness, and a Baby Friendly site.
Seven bed, Level II Newborn Intensive Care Unit & dedicated C-Section Suite
Needle-free blood draws for inpatients using the PIVO™ device from Velano Vascular
Alternative to Opioid (ALTO) program
Recognized by Becker's as one of 332 hospitals with the lowest CAUTI rates
Leaders
Leaders
St. Catherine Hospital
Twilla Lee serves as the CEO for St. Catherine Hospital – Garden City, St. Catherine Hospital – Dodge City, and Bob Wilson Memorial hospitals.  She joined Centura's 101-year legacy of serving the vibrant communities of western Kansas in 2022.
On a mission to help people – one person at a time, Twilla previously served as CEO for Lutheran Downtown Hospital in Fort Wayne, Indiana, where she oversaw the construction of a 60-bed, acute care facility. Her work included developing and implementing a strategic plan for opening the hospital, including physician recruitment, staffing and operations.
Twilla has more than 30 years of experience in the health care industry and has a reputation for building high-performing teams, building operational efficiency and developing positive relationships with the local community and leaders.
She earned both her Bachelor of Arts and Master of Business Administration from Otterbein University.
On a mission to serve with love and integrity while caring for our communities' needs, Shawna previously served as the director of Finance and Health Information Management for St. Catherine and Bob Wilson Hospitals.
Shawna joined Centura Health in 2007 as a Senior Accountant and has progressively increased into leadership roles. She will continue to provide leadership and oversite of the hospitals' daily financial performance and stewardship, including capital and operational budget processes.
She has a Bachelor's degree in Accounting and Management from Bethany College and a Master's degree in Healthcare Administration from Wichita State University.
Shawna is married and has two children. Her family enjoys spending time together outdoors, especially at the lake and in the mountains.
Anita Toussi, MD, PHD, MBA, FACEP, CPE, serves as the Chief Medical Officer for the Centura St. Catherine Hospitals of southwest Kansas. On a mission to provide increased access to excellent, patient-centric care that is compassionate, affordable, and equitable, Dr. Toussi has served as a physician leader for the past 22 years.
Throughout her tenure, Dr. Toussi built a reputation for consistent success in every aspect of patient experience, physician recruitment, retention and alignment. Most recently, she served as the Chief Medical Officer for Horizon Health in Paris, IL, where she built multiple service lines from the ground up and led her teams through the pandemic. Throughout her career, Dr. Toussi has transformed systems, processes and overall morale by encouraging her team to perform at the height of their strengths.
Dr. Toussi earned both her PhD and M.D. in medicine from the University of Geneva in Geneva, Switzerland. Along with her medical degrees, Dr. Toussi also earned two Master of Arts degrees from the University of Geneva and a Master of Business Administration degree from Auburn University.
Candy Canga Picar, BSN, MBA, DNP, serves as Chief Nursing Officer (CNO) for St. Catherine Hospital – Garden City, St. Catherine Hospital – Dodge City and Bob Wilson Memorial Hospital.
Candy, who is on a mission to advance diversity, equity, inclusion and acceptance by creating space where each person has a voice at the table, joined Centura from St. Charles Madras Hospital in Madras, Ore., where she served as the CNO and built a culture of excellence by empowering frontline nurses utilizing the Pathway to Excellence standards.
Candy, who was born and raised in Cebu, Philippines, has a true passion for understanding how the complexities of social determinants impact a person's care and overall health. She immigrated to the US in 1991. Since then, Candy has worked as a staff nurse in various healthcare settings all the way up to an executive role.
Some of Candy's greatest successes in health equity include expanding care for the Native American Indian population in Madras by creating the first Patient Family Advisory Council, facilitating staff training and developing culturally competent practices.
Candy has her Doctor of Nursing Practice from Capella University, a Master of Business Administration from the University of Phoenix and her Bachelor or of Science in Nursing from Velez College in Cebu, Philippines.
During her personal time, Candy enjoys being a wife, a mother, a pet lover, and an active member of the church community.
Sammie Ramos is the Director of Human Resources for St. Catherine Hospital in Garden City and Bob Wilson Memorial Hospital in Ulysses, Kansas. She joined Centura Health in 2016 as a talent acquisition consultant and Human Resources generalist, excelling in her roles and displaying outstanding leadership.
Sammie has proven to be an effective leader and communicator in her roles as a recruiter and human resources generalist, excelling in recruiting and onboarding new talent for the organization, designing and implementing retention strategies, and providing guidance in conflict resolution, employment law, hiring practices and change management.
Prior to joining Centura Health, Sammie was a consulting analyst for Cerner in Kansas City, MO., as well as a clinical research coordinator for Heartland Research Associates, LLC, in Wichita.
Sammie grew up in Derby and attended Wichita State University on a softball scholarship, graduating with a bachelor's degree in Exercise Science.
Sammie is excited and humbled to have the opportunity to serve Centura Kansas as Director of Human Resources, thankful to be part of an amazing organization and serving our communities in southwest Kansas.
Stephanie Waggoner is the Kansas Administrator for Centura Health Physician Group and has been part of the leadership team since 2014.
Stephanie is strongly motivated by a desire to lead a culture change within healthcare and create a more home-like environment focused on resident-centered care.
Before joining Centura, Stephanie served as CEO of United Methodist Medical American Ministries, offering medical and social services through Care Centers and Clinics in six communities in southwest Kansas.
Stephanie attended Kansas State University, where she earned a bachelor's degree in Psychology and a master's degree in Lifespan Human Development, with an emphasis in Gerontology. She was a Sunflower Advocacy Fellow in 2010 and served as a board member for the Kansas Association of the Underservice from 2008-2013.
Stephanie is married and has two daughters, and they all enjoy spending time together as a family, as well as their horses.
Volunteer
Volunteer
Volunteers are a vital part of St. Catherine Hospital - Garden City and touch the lives of people through their compassionate service.
Surgery waiting room
The surgery waiting room volunteer provides companionship, answers questions, gives out room numbers and makes certain that messages from staff are given to family members and friends who are waiting.
Siena Medical Clinic information desk
The Siena Medical clinic volunteers welcome, give directions and assists guests.
St. Catherine Hospital - Garden City information desks
The information desk volunteers welcome, give directions, and assist visitors at St. Catherine Hospital - Garden City. They also deliver newspapers, mail and flowers to patients.
The Benincasa House
The Benincasa House volunteer is committed to making guests feel as comfortable as possible for as long as their loved one is in the hospital or undergoing cancer, radiation, wound care or antibiotic treatments at SCH. This area needs someone who can do light housekeeping duties (bag dirty linens, restock linen cabinets, unload dishwasher, etc.) and has a compassionate heart and a listening ear.
The Gift Nook
The Gift Nook volunteer serves as a salesperson in the hospital's beautiful gift shop.
Music volunteers
The music volunteers provide uplifting, joyful music for our guests, patients, and associates. It is our hope to provide comfort and a healing environment.
$21.2 million
FY22 Charity/Uncompensated care
At St. Catherine Hospital - Garden City we offer a broad range of specialties to best serve the needs of our community. Our service lines are always expanding as we grow with our community. As the regional health care provider in Southwest Kansas, you can rest assured that St. Catherine Hospital - Garden City will be here for you and your family when you need us most.
Helping our community flourish
No one ever wants to have surgery, but when it's necessary—whether in an emergency or for an ongoing health condition—St. Catherine Hospital - Garden City makes it a little easier on you by providing a wide range of surgeries close to home. We also offer outpatient rehabilitation to help you recover fully once you go home after surgery.
Visitor Information
You can count on us to be there for you. We understand that times of illness and injury affect not only our patients, but also their loved ones. The information below will help you before, during, and after you come to our hospital. Our goal is to provide the level of patient experience that enhances your peace of mind and earns your full confidence.
All Visitor Information
All Visitor Information
Please read Centura Health's current COVID-19 visitor restrictions. Contact the hospital directly for additional individual visitor policies that may apply.
All visitors of patients at our hospital enjoy equal visitation privileges consistent with patient preferences and subject to the facility's clinical restrictions. Visitor policy may be subject to change. Please adhere to any adjustments to permitted visitors, as posted in our facility.
Visitors under the age of 12 must be escorted by a responsible adult.
At 10 pm, seven days a week, the main lobby entrance will be locked. After 10 pm, enter the hospital through the emergency department walk-in entrance.
There may be times when visitors are asked to leave to better meet the needs of our patients.
Patients and visitors may park in the parking lot in front of the main entrance and adjacent lots around the hospital. Free parking is available 24 hours a day.
Our gift shop is conveniently located inside the south entrance, in the main lobby of the hospital. Visitors can find a variety of gifts and convenience items for their family members or loved ones in the hospital. Call 620-272-2243 to get the most updated hours.
Letters and packages are delivered to patients Monday - Friday. If you have letters to be mailed, you may give them to your nurse. Flowers addressed to you will be delivered to your room unless you are in the intensive care unit. Only Mylar® balloons are permitted in the hospital. Latex balloons can cause allergic responses and interfere with hospital safety systems.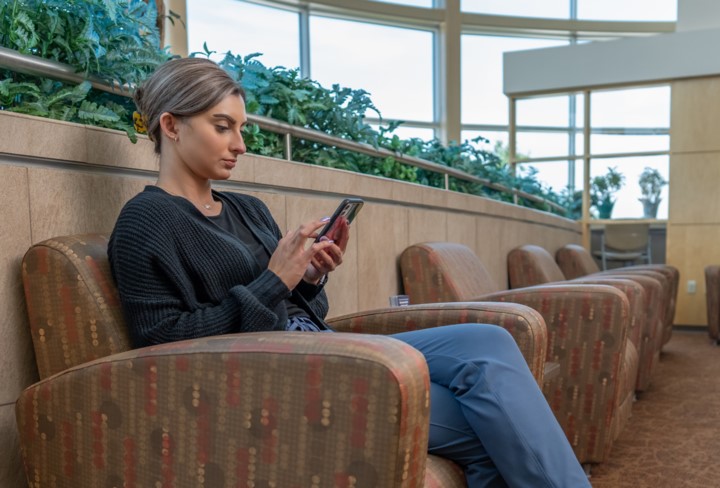 Our Foundation
St. Catherine Hospital - Garden City Foundation is a separate, non profit organization formed for the support of health care facilities and programs serving the people of southwest Kansas. The Foundation is dedicated to improving health care by obtaining charitable contributions for the primary benefit of St. Catherine Hospital  - Garden City and the people it serves.
Programs
St. Catherine Hospital - Garden City offers a variety of programs including support groups, healthy living educational opportunities, and community programs from Meals on Wheels, Perpetual Adoration and Comfort Zone Camp to Therapy Dogs.
"Comfort Zone" Family Retreat
"Comfort Zone" Family Retreat
St. Catherine - Garden City Hospice sponsors the "Comfort Zone" Family Retreat each October at Camp Lakeside in Scott City, Kansas. This retreat was recently selected as a finalist among community service programs by the American Hospital Association and is offered to assist families who are grieving the death of a significant person in their life.
For more information or to register, contact St. Catherine Hospice Comfort Zone Director:
Phone: 620-272-2519
Toll-free: 1-800-281-4077
Because grief is different and each person's coping skills are unique, conflict may arise within families. Grief experiences are influenced by the circumstances surrounding death, other losses experienced, emotional support systems, and cultural/religious backgrounds. The retreat weekend is designed to help families recognize these differences and encourage open and supportive conversation.
The weekend features sessions for adults, teens & children, giving participants tools to help them and their family as they walk their grief journey. Comfort Zone activities are based on helping individuals process grief, creating conditions that allow the bereaved to mourn through meaningful ceremonies and rituals coupled with celebrations, and fun in a natural environment.
Cost: 
$10 per family member which
Includes 6 meals
Two nights lodging
Participants are limited
Financial aid is available.
Benincasa - "The Good Home"
Benincasa - "The Good Home"
A residence which helps the healing process of patients by keeping their families, friends, and caretakers nearby in a safe, comfortable, and peaceful shelter.
Benincasa, meaning "Good Home," is a valuable non-profit ministry intended to assist those who come to Garden City for healthcare. Like a Ronald McDonald House, Benincasa provides thousands of nights of accommodations to hundreds of patients, families, and caretakers each year. The patients' families come to this home from varying distances and for varying lengths of stays. For some it may be only a few days of accommodations while the patient is hospitalized, while for others it may be as many as 10 to 12 weeks of accommodation for both the patient and the family while here for outpatient treatments.
At Benincasa our goal is simple. We want to provide patients and their families both the emotional support needed because of trauma and illness and the accommodations needed to keep these people from financial compromise.
Guests are admitted on first-come, first-served basis without regard to race, color, religion, marital status, age or gender. Reservations are not taken. When the rooms are filled, prospective guests will be placed on a waiting list and notified when space becomes available. The home's seven bedrooms will accommodate up to 14 guests.
Benincasa is accessible for those with disabilities. Arrangements may also be made for infants and children.
Yes, there is a $25.00 fee collected at registration. Beyond this fee there is no "charge," however, we suggest a $10 to $20 daily donation for the continued success of the Benincasa Ministry.
Potential guests staying at Benincasa may call 620-272-2265 to see if they qualify for placement. There is no limit to the length of stay. Guests may use the house as long as their loved one is receiving treatment. However, rooms may not be held if a guest chooses to return home for a period of time.
Limited parking is available at Benincasa. From the house, it is a short block to St. Catherine Hospital - Garden City. Transportation to and from the hospital is provided by security for guests in need or during the night time hours if needed. For assistance, please call Dispatch at 620-272-2265 and ask for a security escort to/from Benincasa.
Yes, both telephone and services are available. We have a phone on each floor that may be used for local calls and long distance credit card/collect calls.
Mail may be addressed in care of:
Benincasa
809 N. Sixth St.
Garden City, KS 67846
Benincasa has a fully equipped kitchen and laundry facility for your use. You may bring your own groceries to prepare meals and snacks. As donated food items are received they will be made available for Benincasa guests. A washer and dryer are available for the use at no cost. Laundry detergent and fabric softener are also provided. Bed linens and towels are furnished. We ask that guests maintain Benincasa by being responsible for keeping their rooms, the kitchen, baths, and parlor areas clean and orderly.
A living room with a television and library on the 1st floor
A Ronald McDonald activity room with TV on the lower level
A quiet room located on the 2nd floor
Counseling services available through Spiritual Care and Social Services at St. Catherine Hospital - Garden City
Designated quiet hours are from 10:00 pm - 8:00 am
For years a home-away-from-home for patients' families in times of need was just a dream. But in 1992, the hospital and its auxiliary, the Belles of St. Catherine, worked together to begin the project. By early 1993, the seven-bedroom house at 809 N. sixth St. was purchased and named Benincasa. The name is significant for two reasons. Not only does it mean "Good Home" but also is St. Catherine of Siena's last name (the saint for whom the hospital is named). The following 18 months were spent  fundraising, remodeling, and furnishing the home. The task included many hours of volunteer work on the part of the community, Belles of St. Catherine and hospital associates. The doors of Benincasa finally opened December 5, 1994. From a common vision shared by many, Benincasa has served as the "Good Home" for thousands of individuals to date. Our goal is to keep the "Good Home" available for many years to come.
Benincasa, a non profit Christian ministry of St. Catherine Hospital - Garden City, operates by your donations. We are grateful for donations of all sizes.
To provide a safe, comfortable, peaceful shelter that reflects a caring Christian environment, promoting the physical, emotional and financial welfare of our guests.
To inquire about a room, contact us.
Phone: 620-272-2265
809 N. Sixth Street
Garden City, KS 67846
Community Engagement Request
Community Engagement Request
Updated 11/1/23
As we fully integrate with CommonSpirit Health, we are pausing community engagement commitments until June 1, 2024. However, you are welcome to submit an application using the guidelines below. We will notify you directly if your organization is selected for funding. We appreciate your patience and look forward to working with you in the future.
How to submit an engagement request
CommonSpirit hospitals receive many requests each year asking us to engage in community events and programs. Supporting the communities in this way is a reflection of our mission to improve the health of the people we serve, especially those who are vulnerable, while we advance social justice for all.

Before submitting a request, please consider the following:
Sponsorships and events should align with our mission and values; community health improvement or prevention; and one of the hospital's Community Health Needs Assessment priorities.
Please make your request at least 60 days prior to your event or sponsorship deadline.
Completion of this form does not guarantee a donation or sponsorship.
We are only able to support non-profit organizations.
Completed requests will be considered by an internal committee. We will contact you regarding the status of your request when we reopen community engagement giving June 1, 2024.