Compassionate care in a healing environment.
Longmont United Hospital is a full-service acute care hospital located in Longmont, Colorado. We have provided high-quality, whole person care for more than 60 years to Longmont and the surrounding communities. Longmont United Hospital was one of the first to be designated as a Planetree hospital in the United States. This means we provide a person-centered approach in every aspect of care. Our caregivers treat the entire person because we understand the powerful connection between the body, mind and spirit. We combine advanced technology, innovative treatments and compassionate healing to patients at every stage of life.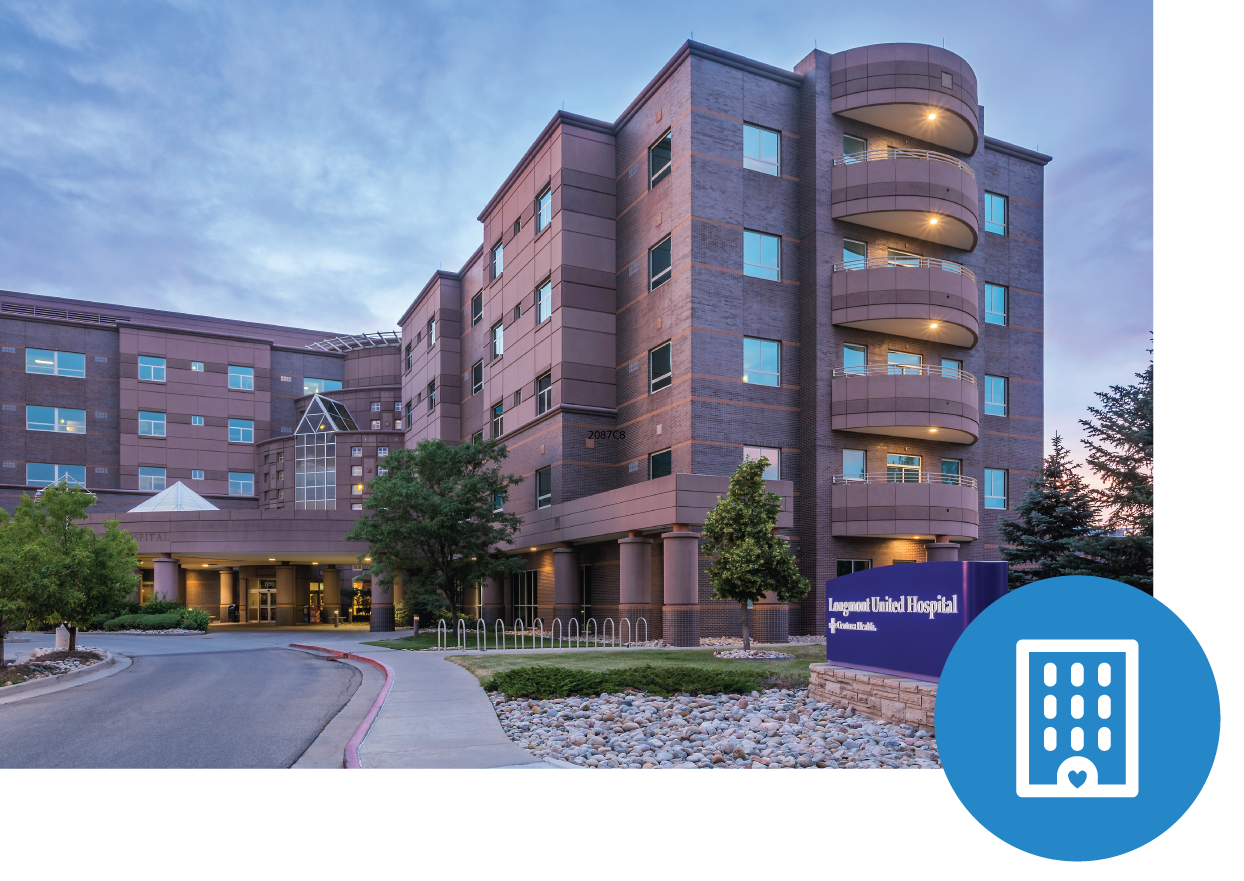 A community of caregivers on a mission.
At Longmont United Hospital we are committed to providing compassionate health care in a healing environment and to providing leadership to improve the health of the community we serve. We are a full-service, nonprofit hospital. Our specialty areas include women's services, orthopedics, cardiology, oncology, robotic surgery, acute medical services. Our 24-hour Emergency Department is a Level III Trauma Center. Longmont United Hospital is a Planetree Patient-Centered Care Designated hospital in Northern Colorado. We have served the people of Longmont, Colorado for more than five decades.
Distinctive Services
Our community has access to emergency care, orthopedic and spine care, breast care, heart and stroke care, surgical services at a Center of Robotic Surgery, our birthing center and Level II NICU, and many other medical services. 
Community & Patient Resources
We serve our community through classes, educational sessions, support groups, exercise counseling, training, and support services all hosted on campus.
Planetree Designated® Hospital
We are proud to be one of the first hospitals in the United States affiliated with Planetree, an internationally recognized nonprofit organization that helps guide hospitals on the journey toward patient-centered care and culture.
Longmont United Hospital | By the Numbers
Active Medical Staff
450
Admissions
4,599
2018 ED Visits

25,699

Caregivers
650
Licensed Beds
186
Emergency Department

32 Rooms

2018 Uncompensated/Charity Care
$10.8 million