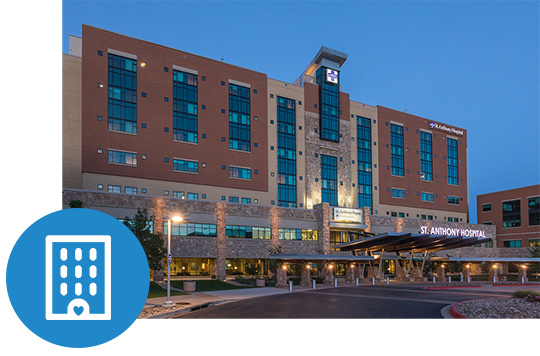 An entire campus dedicated to your health.
St. Anthony Hospital was created as a true healing environment—a place that nurtures the well-being of patients, guests and associates. In 2011, it received the City of Lakewood's Sustainability Award for its eco-conscious design and programs. In 2012, the award was presented to St. Anthony Hospital for its attached medical office plazas.
Level I Trauma Center
A Level I designation is the highest level of definitive and comprehensive emergency and trauma care for patients with complex injuries. We are equipped with a dedicated trauma room, T-10, which is the only surgical suite of its kind in Colorado. We also operate Flight For Life® Colorado, providing emergency air transport throughout the Rocky Mountain Region. As a Level I Trauma Center, St. Anthony Hospital has also been named a two-time Lantern Award Recipient, illustrating excellence in emergency care.
Distinctive Services
The St. Anthony Medical Campus in Lakewood combines our heritage of expert care with the latest in technology and innovation. In addition to the hospital, our medical campus offers OrthoColorado Hospital - the only orthopedic specialty hospital in the region, plus, our three Medical Office Plazas where you'll find the St. Anthony Breast Center, Cancer Center, Senior Health Center, Sports Medicine and more. 
Enjoy a reflection of our history provided by Dr. Raymond Mencini
Our people create our legacy.
St. Anthony Hospital associates embrace a pioneering mindset. Their innovation has emerged time and again throughout our 125 Year history due to the determination of these incredible care givers on a mission to do incredible things. As they, and all care givers of Centura Health, pursue the best outcomes for their patients, St. Anthony Hospital associates continually advance the patient experience and treat the whole person – mind, body, and spirit.
Patient & Community Resources
St. Anthony Hospital hosts regular classes, educational sessions and support groups on campus to support area residents on their wellness journey. It also sponsors a wide range of community events in fulfillment of its mission. Among the most visible integrated resources is the St. Anthony Hospital Cardiac Rehab, Fitness & Wellness center. This inviting center offers a wide range of clinical services for those with cardiovascular, diabetes and pulmonary issues, as well as a full schedule of fitness classes for the community.
St. Anthony Hospital | By the Numbers
Active Medical Staff
335
Admissions
12,205
2018 ED Visits
50,607
Associates
1,485
Licensed Beds
237
Surgical Suites
12
2019 Uncompensated/Charity Care
$60,391,270