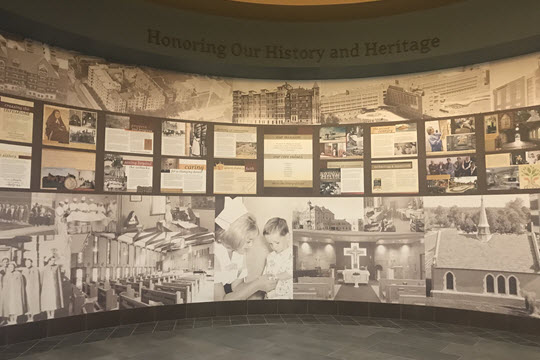 The St. Anthony Medical Campus combines our heritage of expert care with the latest in technology and innovation. Those arriving at St. Anthony Hospital via its main entrance are greeted by a timeline and history wall highlighting our care legacy. The starting point of the legacy story is 1892, the year the hospital opened on the original Sloan's Lake Campus, an act of abiding faith and relentless effort by a small group of Sisters of St. Francis who sought funding for the building by getting contributions from Denver railroad men and miners.
Enjoy a reflection of our history provided by Dr. Raymond Mencini
Our People Create Our Legacy
St. Anthony Hospital associates embrace a pioneering mindset. Their innovation has emerged time and again throughout our 125 Year history due to the determination of these incredible care givers on a mission to do incredible things. As they, and all care givers of Centura Health, pursue the best outcomes for their patients, St. Anthony Hospital associates continually advance the patient experience and treat the whole person – mind, body, and spirit.
St. Anthony Hospital Milestones

1921: St. Anthony Hospital became the first in Denver to be accredited Class A by the American College of Surgeons

1929: The first hospital in Denver approved for x-ray technician training.

1960: The first hospital in Denver to perform open-heart surgery.

1967: The first hospital in Denver to provide 24-hour physician coverage in the Emergency Department.

1972:The first hospital in the nation to launch a civilian hospital air ambulance service, Flight For Life.

1977: The first field-to-surgery suite in Colorado (T-10 Room opened).

1996: St. Anthony Hospital joined Centura Health, helping create Colorado's largest health care network.

2010: OrthoColorado opened on the new St. Anthony Medical Campus.

2011: The hospital moved to the new campus in Lakewood, CO.

2016: St. Anthony Hospital earned the Healthgrades Distinguished Hospital Award for Clinical Excellence™

—

an achievement repeated in 2017.

Photo courtesy of Denver Public Library, Western History Photographic Collection, MCC-826

Photo of the original St. Anthony Central Hospital. 
An Entire Campus Dedicated to Your Health

The St. Anthony Medical Campus in Lakewood combines our heritage of expert care with the latest in technology and innovation. In addition to the hospital, our medical campus offers OrthoColorado Hospital - the only orthopedic specialty hospital in the region, plus, our three Medical Office Plazas where you'll find the St. Anthony Breast Center, Cancer Center, Senior Health Center, Sports Medicine and more. 

St. Anthony Hospital is a full-service, acute care hospital and a Level I Trauma Center. A primary receiving center for the region's most seriously ill and injured patients, it is the headquarters for Flight For Life Colorado, an international model for air and ground transport services

Founded in Denver's first days, St. Anthony moved to its eco-conscious new campus in 2011. Today, this state-of-the-art facility, its patient-oriented processes and advanced technology support physicians and associates across multiple award-winning areas of care.

St. Anthony Hospital hosts regular classes, educational sessions and support groups on campus to support area residents on their wellness journey. It also sponsors a wide range of community events in fulfillment of its mission. Among the most visible integrated resources is the St. Anthony Hospital Cardiac Rehab, Fitness & Wellness center. This inviting center offers a wide range of clinical services for those with cardiovascular, diabetes and pulmonary issues, as well as a full schedule of fitness classes for the community
Facts

Beds 187 Licensed Beds
Active Medical Staff 739
Associates 1,664
Emergency Department 46 Private Rooms
Surgical Suites 12
FY18 Admissions 11,875
FY18 ED Visits 53,274
FY18 Uncompensated/Charity Care $46,825,576