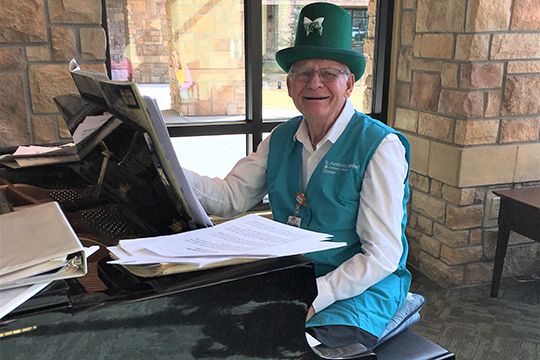 Ron Jones, Stroke Survivor, St. Anthony Hospital Volunteer and 7Everyday Hero, lifting the spirits of patients through piano.
As a volunteer, you can be the warm, empathetic difference between a frightening experience and a caring, pleasant one. Whether you are welcoming people at our front desk, walking with someone to a testing area or quietly holding a hand in the ER waiting room, you are always good medicine.
We treat all kinds of people, so we love all kinds of volunteers. Are you ready to join our volunteer team? Find more information in the below.
Apply to Volunteer

Volunteering is rewarding and fun, but demands a significant service-based commitment on your part. At St. Anthony Hospital, our patients, visitors and staff benefit greatly when volunteers serve on a regular, long-term basis. Therefore, St. Anthony Hospital volunteers are asked to commit to a regular week schedule of shifts which are typically four hours in length (these may vary by assignment).

You must be 16 years old to volunteer at St. Anthony Hospital. Most of our volunteers average 100 to 200 service hours each year. Because of the commitment required, we ask that you carefully consider your schedule and your abilities before you apply to volunteer at St. Anthony Hospital. Due to the nature of our services, St. Anthony Hospital does not accept court ordered volunteer applicants.

Ready to be part of the St. Anthony Hospital volunteer team?

Follow the easy application process below:

Teen Applicants: Complete the Teen Online Volunteer Application. We will contact you with further details if space is available.

Adult Applicants:
Step 1: Complete an Online Volunteer Application.
Step 2: Register Online for a Volunteer Information Session
Upon submitting your online application, you will receive a confirmation with a link where you can register for an information session. You must attend a session within six months of submitting your online application.

Due to the uniqueness of volunteering in a hospital including the commitment level and regulatory guidelines to which volunteers must adhere, all prospective volunteers are required to attend this session prior to moving on in the application process. When you attend, you will meet staff from St. Anthony Hospital Volunteer Services Department, hear more about volunteer opportunities, go over remaining documentation requirements and ask questions about the application process.

Because of the potential for exposure to confidential information which may be obtained directly or indirectly concerning patients, doctors or personnel, every applicant is required to undergo a background check. All volunteer applicants must sign a background check form at the information session. The Volunteer Services Department also requires immunization records, flu-shot documentation, TB testing and two personal references. All of these forms will be available for you at this session.

Step 3: Welcome. You're a Volunteer
Once you have successfully completed the background check and ALL documentation has been submitted and approved, your volunteer placement will be confirmed and you will receive your first volunteer assignment.

That's all there is to it. We'll make sure you have all the orientation and training you need, provide you with a uniform if necessary and arrange for your parking.

If you have any questions with the application process, contact us.

Phone: 720-321-4070
Frequently Asked Questions

Q: Are there age requirements to volunteer at St. Anthony Hospital?
A: Yes. Volunteers must be 16 years of age or older. Some volunteer opportunities may be limited due to additional age requirements.

Q: I don't have a Social Security Number. Can I still apply to volunteer?
A: No. A valid Social Security Number is required because no other form of identification can be substituted for our verification process.

Q: I have court-ordered community service. Can I volunteer at St. Anthony Hospital?
A: No. We cannot accept court-ordered service volunteers.

Q: Where do I send my completed application?
A: You may complete and submit your application online. All applicants under the age of 18 must have a parent or legal guardian sign the Authorization to Volunteer.

Q: What will happen if I don't agree to complete the screening process?
A: According to laws and health care regulations, all prospective volunteers are required to complete our screening process, which includes a thorough background check and health screening. Those who do not complete the screenings will not be able to volunteer at St. Anthony Hospital. This process, though rigorous, helps to ensure the health and well-being of our volunteers, staff and the patients and families we serve. As a result, it is a benefit to you as well as to St. Anthony Hospital.

Q: Why do I need a Tuberculosis (TB) test and what does it involve?
A: Volunteers are required to have a QuantiFERON-TB Gold blood test. This is a new FDA approved blood test for the detection of tuberculosis (TB) infection. As a modern alternative to the traditional tuberculin skin test (TST), the QuantiFERON Gold TB test offers a simpler and more accurate, reliable, and convenient TB diagnostic tool. This test is highly specific and can strongly predict true positive TB infection. The test results are obtained by a one-time blood draw. Once you complete the blood test you will only be required to complete a written TB survey form every year thereafter.

Q: I had a TB test within the past year. Do I just need to complete the rest of the health assessment?
A: If you have had a TB skin test this year, you are still required to do a QuantiFERON-TB Gold blood test. If you have already had a QuantiFERON Gold blood test, please contact the volunteer office to determine if another is required.

Q: Who should I contact if I still have questions?
A: If you have questions or would like additional information, contact the Volunteer Services Department
Phone: 720-321-4070 or email.