If injury or illness has caused weakness or loss of mobility, physical therapy can make a big difference. Centura Health offers state-of-the-art outpatient physical therapy facilities near you, staffed with highly experienced and certified physical therapists who provide caring, one-on-one therapy. We're committed to helping you regain your independence and strength through our wide range of services and individualized treatment plans.
Physical therapy can improve the movement and function of individuals who are experiencing pain or disability that affect their quality of life. Disorders may result from an extended illness, loss of limb, sports injuries, broken bones, accidents or strokes. Your physical therapist will have a wide range of tools and exercises to help assess and treat your specific condition.
Some of these include:
Exercise and stretching equipment

Acupuncture

Dry Needling

Therapeutic ultrasound

Biofeedback therapy

Electrical stimulation

Massage therapy

Light therapy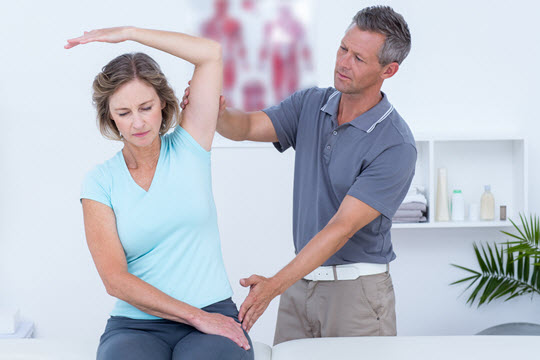 Find Physical Therapy Services
Our physical therapists will create an individualized plan to help you heal and reach your goals.
Evaluating your needs
The first step in physical therapy is evaluation.
You may be carefully guided through a series of movements and activities to assess your current range of motion, strength, source of pain and other factors.
You can prepare for your visit by writing down a list of your symptoms and mobility problems, including listing any activities or motions that are especially difficult or painful, if some of the symptoms are more noticeable during specific times of the day and if rest makes the symptoms worse or better. It can also be helpful to make a list of personal information such as any recent injuries or illnesses that caused the issues, medications you're taking and your family history of disease. That will give us a better picture of your overall health so we can create the best plan for you.
We don't stop treatment when you walk out of the office. Our physical therapists will also provide you with guidance on exercise, stretches, nutrition and more that you can do at home to continue making progress. We want to empower you as much as we can to get you back to the things you love