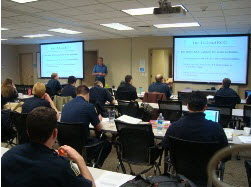 Institute of Emergency Medical Training
Update Your Training or Expand Your Skills
Whether you are seeking basic or advanced EMS courses, our EMS training programs provide the level of education necessary to provide you the skills and certifications you need to advance your EMS career. With our class format and outstanding instructors, you'll leave with the knowledge to handle your daily EMS duties with confidence and skill.
If you have questions or need additional information about EMS courses or CE please contact:
pamelaice@centura.org or 720-321-8970.
If you see a course that does not have an application button or an application button displays no courses, this is an indication that there is not a current course available or the course is full.
Benefits of choosing St. Anthony Hospitals PreHospital Services and Institute of Emergency Medical Training:
A state-of-the-art education facility that includes dedicated simulation labs.
We interact with local, state, regional and national organizations to make your job easier. 
We provide Medical Advisorship to more than fifty-five emergency response agencies.
Our team is highly motivated and each member of our staff has a common interest in the advancement of EMS. 
Our backgrounds represent several levels of the medical specialties including: EMT, paramedics, nurses, and medical doctors, business professionals and hospital administrators