We're here to help you give cancer the fight of its life.
We care for the whole person — mind, body, and spirit — with the most advanced technology available and a focus on creating an environment of healing specifically for your individual needs. 
Cancer is not just one disease, it's a general term for cells that are growing in an uncontrolled way and can start anywhere in the body. The cancer care team includes a wide-range of specialists with expertise in various cancers.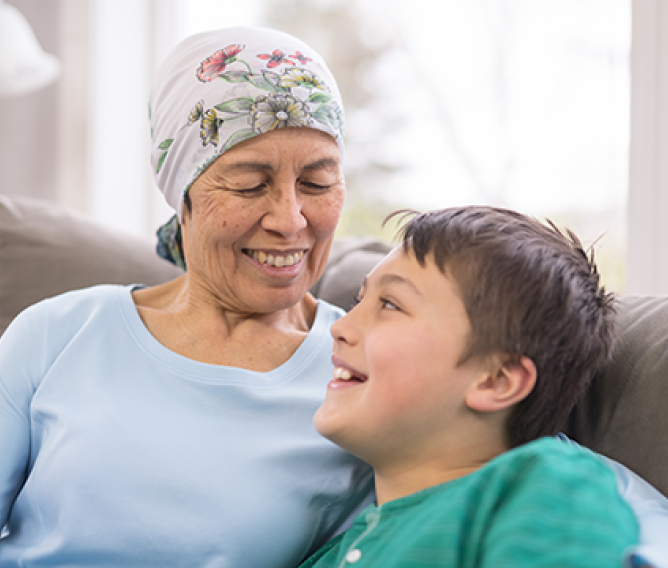 Find a cancer specialist
We're proud to offer our communities a network with accredited breast centers and cancer centers, recognized as leaders in prevention, screening, early diagnosis, staging, rehabilitation, support services and more.
Being diagnosed with brain cancer is life-changing for you and your family. Brain cancer may begin in the brain or spread to the brain and spinal cord from elsewhere in the body. Both benign and malignant brain and spinal tumors cause symptoms that require treatment.
Our brain cancer specialists offer successful diagnosis using advanced technology and work with you to create a treatment plan that is unique to meeting the individual needs of you and your family.
When you or a loved one is diagnosed with breast cancer, your world can be turned upside down. We understand. We dedicate ourselves to providing you with expert care for mind, body and spirit
Your compassionate care team is ready to make a difference in your life.
Learning you have colorectal cancer (cancer in your colon, large intestines or rectum) is often a shock. We understand and are here to help you make sense of it all while developing a plan that puts you on a path to the best possible treatment.
Your compassionate care team is ready to make a difference in your life.
Gynecologic oncology programs at Centura Health treat the following types of gynecologic cancer:
Cervical cancer
Ovarian cancer
Uterine cancer
Vaginal cancer
Vulvar cancer
Peritoneal cancer
Tubal cancer
Gestational trophoblastic neoplasia (a rare cancer of the placenta)
Being diagnosed with cancer in the head or neck region can be frightening. These cancers can include the larynx, throat, lips, mouth, nose and salivary glands. Among the highest risk factors for these diseases are tobacco use, heavy alcohol use and human papillomavirus (HPV)infection.
The oncology experts are experienced treating these complex diseases, helping give you peace of mind knowing you're getting the excellent care you need.
The kidney is an important organ, filtering blood, controlling blood pressure and more. Because the kidneys are deep inside the body, small tumors may not be noticed right away. With all these important jobs, learning cancer is affecting your kidney can be alarming.
The expert care team skillfully treats cancer affecting the kidneys, with a holistic approach that addresses all the needs of this complex disease.
A leukemia or lymphoma diagnosis for you or your child can change your world. Among children and teens ages 20 and younger, leukemia is the most common cancer.
The compassionate care team has extensive experience treating cancers of the blood, bone marrow and lymph nodes. You can rest easier knowing you and your loved ones are in good hands with our oncology experts and extensive support system.
As the leading cause of cancer-related death in both men and women in the U.S., learning you have lung cancer can feel devastating. We offer life saving treatments that can give you new hope and lead to an improvement in your quality of life.
Smoking is a major risk factor for this disease, and it's recommended that in addition to quitting smoking, smokers undergo preventive screenings for this disease. Talk with your doctor about ways to quit smoking if you're a smoker.
A pancreatic cancer diagnosis requires immediate, expert care. Pancreatic cancer begins in the pancreas, an organ that sits behind the stomach in your abdomen. But, pancreatic cancer often spreads rapidly to nearby organs. Our oncology experts offer advanced treatment options that can address the rapid nature of this difficult disease.
If you've been told you have prostate cancer, you may be wondering where you go from here. Prostate cancer is often a slow-growing tumor that seldom causes symptoms until advanced stages. The oncology team understands that decisions about treatment are personal, and that's why we're dedicated to helping you make the best decision for your needs — both medical and personal.
Skin cancer is the most common type of cancer, accounting for nearly half of all cancers in the U.S. Learning you have skin cancer is often alarming. The compassionate care team treats all forms of skin cancer. You'll feel at ease knowing you have access to the latest treatment methods and advanced technology to give you the expert care you need.
The thyroid is a butterfly-shaped gland located at the base of your neck. Many people know little about the thyroid, despite its importance in producing hormones that regulate many aspects of health, including blood pressure, body temperature, heart rate and weight. Being diagnosed with thyroid cancer requires special care to address both the cancer and the wide-reaching effects of this disease. Our oncology experts provide comprehensive care that will help as you move from diagnosis to treatment and beyond.